The question looms every Christmas.  You debate whether or not you should buy gifts for your loved ones, or use one of your many talents to create something that they will enjoy.  If you are reading this article, you obviously come from a frugal mindset.  It is tempting to handcraft a gift for someone in the spirit of still giving presents but saving money at the same time.  But how do you feel as the recipient? Do you really feel loved if someone makes something rather than buys something?  There are a few guidelines to follow when it comes to making or buying Christmas gifts for Mom or anyone else in your family.
Quality
The biggest issue with the homemade vs. store bought debate is the quality of the product.  I don't mean how much wear and tear the product can withstand, but rather does it look good or not?  For instance, you might be able to make a pair of earrings, but no matter how hard you try they will always look homemade.
A basic rule of thumb is that if you are a craftsman (or woman), and you are able to make a quality product, then go ahead.  If you can make earrings, furniture, clothing, or anything else that is virtually indistinguishable from something found in the store, then homemade is the way to go.  The one caveat: suppose you make rustic mountain furniture, and the recipient has a modern décor in their home, don't give them something that won't jive.  Instead, craft a piece, sell it, and then buy something nice from the proceeds.
Also Read: Black Friday vs Cyber Monday – Which is Best for You?
Recipient
Speaking of recipients. Which gift you give depends on to whom you are giving.  For someone that is close to you, they are often more impressed if you give something that you created yourself. Think about when you were a child and you gave your mom a macaroni noodle necklace for Mother's Day.  Obviously we give the best gifts to those close to us, and the lesser gifts to those we don't know as well. Since you have put a value on your time, if you spend 20 hours creating a gift, it is worth a lot more than if you spent $20 on something from the store.  Keep in mind that for some people acts of service are the best gift they could receive.
Also Read: 7 Thoughtful Gifts That Anyone Can Afford
Situation
Giving gifts is a choice, not an obligation.  And sometimes you have more time than you do money.  There was a year that I was just starting a new job (being paid entry level wages) and my wife was going back to school.  We did not have a lot of money, and we really did not want to spend a lot of money on Christmas gifts.  Rather than go out and purchase frivolous items, I brewed mead and hard cider, and she baked cookies.  Everyone on our list that year got a bottle of each with 6 or so cookies.  Friends and family knew our situation, they knew we didn't have money to spare, and they were actually quite delighted with a home brewed gift.
Quantity
Some of us have a lot of people on our "to-buy-for" list.  Others only have a few people on that list.  When you have a large quantity, the price can rise quickly.  While it would be easy to grab a handful of $10 gift cards to Starbucks (or some other place), those make for rather lousy gifts.  Instead of being "that guy" that gives out thoughtless gifts, put some blood sweat and tears into something that comes from your heart.  You can always include the gift card in addition.
Also Read: 10 Best Gifts for Travelers – Under $100
Wrapping It Up
Every year the debate will rage on whether it is appropriate to give handmade, thrifted, or recycled gifts.  And every year you will have to weigh the pros and cons and decide for yourself what you would like to do.  For now, keep in mind these simple points: can you make a better product than you can buy?  Would the recipient want it?  Can you afford to buy the gifts?  How many do you need?  After checking those points, the answer should be clear.  If it is not, get a Starbucks gift card and a hand written note.
What are your favorite gifts?  Have you ever told your friends and family that you only want handmade, thrifted, or recycled gifts? If the Christmas gifts for mom or dad were homemade would they be disappointed?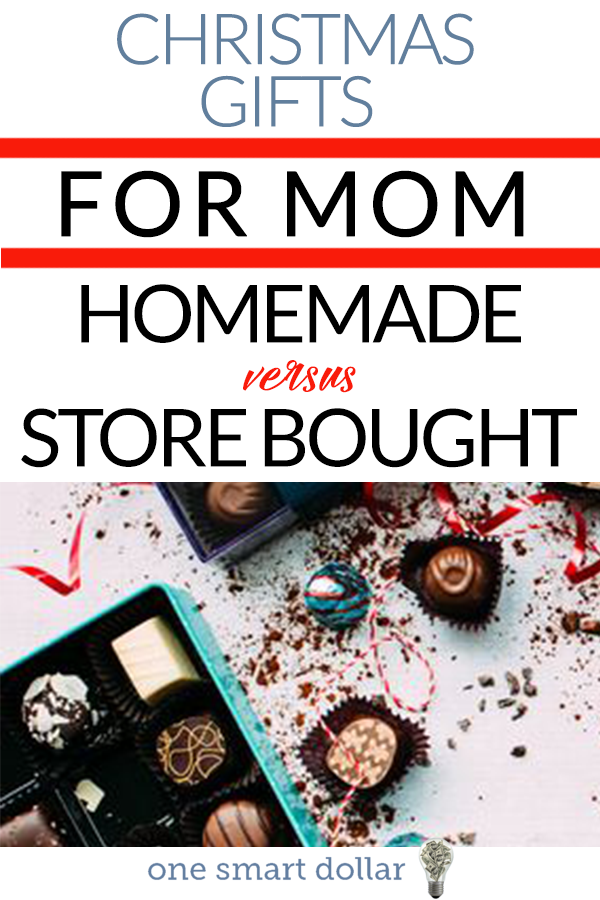 The following two tabs change content below.
Scott Sery
Scott Sery is a native to Billings, Montana. Within an hour in nearly any direction he can be found fishing, hunting, backpacking, caving, and rock or ice climbing. With an extensive knowledge of the finance and insurance world, Scott loves to write personal finance articles. When not talking money, he enjoys passing on his knowledge of the back country, or how to live sustainably. You can learn more about Scott on his website
Sery Content Development
Latest posts by Scott Sery (see all)