Up until last week my wife and I owned two Acura TSX's. I know it's kind of weird to own two of the same car, but what can I say, we love the way they drive. Now that there will be an addition to our family in a few months, we decided it was time to sell one of them and start looking for a more practical family car that can fit a baby and our 100 pound St. Bernard dog.
Now that we sold the car it's time to start the car shopping process. Buying a car is right at the top of my list of least favorite things to do. Most car salesmen are taught every trick possible to up sell you everything, from more options to the extended warranty. To their dismay, I will be heading to the dealership prepared and will be leaving with a car that's the price that I want to pay, not the price they want to sell.
While reading through a Consumer Reports car buying guide, I came across a list of six tips to get a great deal on a car while avoiding all of the car dealer's tricks.
Narrow Your Choices
When most of us shop for a car we usually have a list of different models that we want to consider. Before you actually head to the dealership do your homework to see which cars have the best track record and narrow down your list. This will help to save yourself from buyers remorse. Once you have narrowed your list to a few different cars, head to the manufacturer's website and start more extensive research to make sure all of the cars fit your needs.
Check for Incentives
If you have decided to buy new then you need to do your research on what types of incentives the car dealerships are currently offering. This will give you a better idea about the bargaining room you have with the price. To find out all of the latest rebates available for the cars you are considering, go to the manufacturer's website and you will find a list.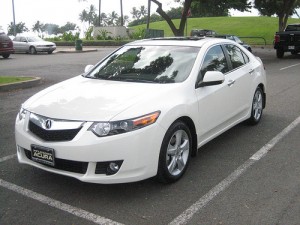 You will frequently see advertisements for 0 percent interest, however, you will need to have good or excellent credit in order to qualify. If they are offering a cash rebate keep in mind that this does not come out of the dealerships bottom line so make sure you still negotiate the price of the car based on what it's worth.
Figure out Your Trade-In Value
If you have opted not to try and sell your old car yourself, make sure you know what your car is worth before you head to the dealership. I always use Kelley Blue Book because I feel their estimates are accurate. If you want a good estimate on what the current going rate is for your car, you can take it to a used car dealer and ask them what they would be willing to give you for the vehicle. This will give you a starting point.
Arrange Your Financing
If you are going to be borrowing money for your car purchase, make sure you set up your financing before you head to the dealership to start test driving vehicles. The last thing you want to have happen is find the perfect car that has a great cash back offer attached to it and then find out you can't get the financing. Making sure you are pre-approved will help save you time and possibly money.
Take a Test Drive
Now that you have narrowed down the list of cars that best suit your needs and you have been pre-approved for a loan it's time to start test driving. This is probably the only part about buying a car that I actually like. You have the ability to test out different cars and see how they handle in different situations. Let's face it, as soon as you step on the car lot the sales pitches will begin. My advice is that you let the salesman know that you are just comparing different types of vehicles and that you will be weighing your options to make that final decision later. This should cut down on the hard sales techniques and allow you to focus on the cars themselves.
Get Price Quotes
Now that you have been test driving cars and picked out the perfect one for you, it's time to start talking price. If you are buying a used car then you need to figure out a good estimate of what the dealership probably paid to acquire the car. Then find out what the typical sales price is for that model year. This will give you a ballpark target for price negotiations.
If you are buying a new car, I suggest that you go to Edmunds.com because you can request a price quote from all of the dealerships near you. This makes it so they are competing for your business. You can use the lowest quote to negotiate down the others.
When you start getting quotes make sure that you get copies of the window sticker. This will allow you to see all of the options included from the car being quoted. It is not unheard of that a dealer will give a low quote on a model with less options in order to get the sale.
Final Thoughts
If you are buying a used car from a dealership make sure you ask if they are offering any type of warranty on the car. If they are not, ask them if you can get it inspected by a third party. Places like Midas will do complete inspections for $50-$100. That amount of money is well worth avoiding a much bigger problem down the road.
If you follow these tips to buying a new car you will not only ease the stress of the buying process, but will also save yourself a little extra money.
The following two tabs change content below.
Sean Bryant
Sean Bryant created OneSmartDollar.com in 2011 to help pass along his knowledge of finance and economics to others. After graduating from the University of Iowa with a degree in economics he worked as a construction superintendent before jumping into the world of finance. Sean has worked on the trade desk for a commodities brokerage firm, he was a project manager for an investment research company and was a CDO analyst at a big bank. That being said he brings a good understanding of the finance field to the One Smart Dollar community. When not working Sean and his wife are avid world travelers. He enjoys spending time with his two kids and dog Charlie.
Latest posts by Sean Bryant (see all)