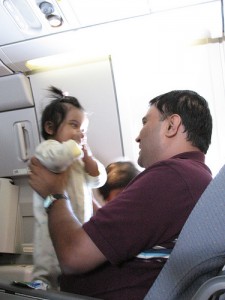 With our first child only a few months away, my wife and I are fully aware that our love for traveling will not come quite as easy as it has in the past. Traveling with a baby can not only be stressful, but also expensive if you are not well prepared. If you follow some of these simple tricks you can easily put the fun back into traveling with a little one.
Make Checklists
Before you start packing for your family vacation, the first thing you need to do is complete a checklist. There are so many additional items that need to be packed once you have a baby, therefore it is essential to have a checklist or you are guaranteed to forget something. This does nothing but add additional costs that could easily be avoided. If you need a comprehensive baby packing list check out the one that Trekaroo has put together.
Leave the Big Stuff at Home
When traveling with a baby it is much easier if you leave the big items at home. Most major cities have rental companies (babysaway.com, babystay.com) where you can rent items such as cribs, car seats, high chairs and other items. If you are going to be renting a car, you can also talk to your rental car company since they typically have car seats available for a small fee.
Adjust How You Think
Before you prepare for a family vacation the most important thing you need to do is adjust how you would normally approach it. You need to fully accept that a road trip will take a lot longer and that getting through the airport will take you twice as long. If you can do this you will end up becoming a lot less frustrated.
Check Your Items
If you are worried about not being able to have a stroller while going through the airport, don't be. You can easily check it once you have reached your gate. If you have a connecting flight then they can bring it back out for you to use during your layover. Having a stroller in the airport is a must because it helps to ensure you can get from point A to point B a lot faster.  If decide that you just don't want the hassle than you can always choose to use a
Baby Bjorn
or a
Moby Wrap
instead.
Unpredictable events are always going to occur while you travel, but if you follow these simple tips you will find the entire process much easier and more enjoyable.
The following two tabs change content below.
Sean Bryant
Sean Bryant created OneSmartDollar.com in 2011 to help pass along his knowledge of finance and economics to others. After graduating from the University of Iowa with a degree in economics he worked as a construction superintendent before jumping into the world of finance. Sean has worked on the trade desk for a commodities brokerage firm, he was a project manager for an investment research company and was a CDO analyst at a big bank. That being said he brings a good understanding of the finance field to the One Smart Dollar community. When not working Sean and he wife are avid world travelers. He enjoys spending time with his daughter Colette and dog Charlie.
Latest posts by Sean Bryant (see all)