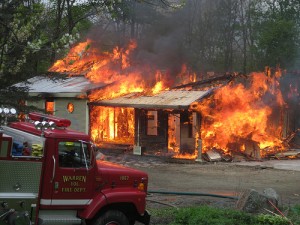 Renters insurance for tenants is like homeowners insurance for a home owner. You shouldn't take possession of the home unless you have it. One of the biggest myths is that renters are going to be covered under their landlords insurance policy. This is 100% not true. Your landlord is only insured to cover the structure of your home. You are responsible for all of the personal items inside incase of a fire or theft.
Renters insurance is going to be a lot like your auto insurance. You will be able to select the amount of coverage that you have and they will give you the monthly premium that you will pay. Compared to most types of insurance renters insurance is very cheap. Most will only cost you around $10-$20 per month.
Types of Renters Insurance Policies
There are two main policy types. There is actual cash value and their is Replacement cost. Basically if your company pays out actual cash value (ACV) you will also receive the value of the items at the time of loss. However if your company pays out replacement cost they will pay for how much it would cost you to purchase the item again. As you can imagine replacement cost will end up being a higher monthly premium but you will be paid out more in the event of a loss.
Make sure you also check with your insurance company because a lot of them will pay for your living expenses if your home becomes unlivable. That means if you have a fire and it is deemed unsafe for you to stay in the house your insurance company will pay for you to stay somewhere. This amount is usually a percentage of the amount of coverage you have. If you have 50,000 worth of coverage and your insurance company has a 30% limit you will receive up to $15,000. Be aware though that this is only good until your home is rebuilt or you can find a new permanent residence.
It is easy to save each month on the premium amount that you pay. Most agencies will give you a discount if you hold other policies with them. You can also get a discount for having fire detectors, fire extinguishers, burglar alarms, ect.
When it comes down to it, you never want to take the risk that you might lose everything especially for only $10-$20 per month. If you don't have renters insurance call one today and get yourself set up.
The following two tabs change content below.
Sean Bryant
Sean Bryant created OneSmartDollar.com in 2011 to help pass along his knowledge of finance and economics to others. After graduating from the University of Iowa with a degree in economics he worked as a construction superintendent before jumping into the world of finance. Sean has worked on the trade desk for a commodities brokerage firm, he was a project manager for an investment research company and was a CDO analyst at a big bank. That being said he brings a good understanding of the finance field to the One Smart Dollar community. When not working Sean and his wife are avid world travelers. He enjoys spending time with his two kids and dog Charlie.
Latest posts by Sean Bryant (see all)