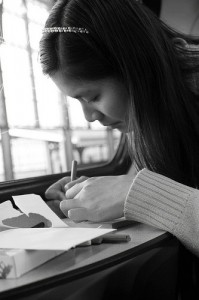 Most of the readers on One Smart Dollar are looking for ways to earn passive income on their quest to financial independence.  In fact, the main goal of those who are financially savvy is to one day be in a place where they no longer have to work.  There are many different ways to earn passive income: invest in real estate, write a book, or build an iPhone app.  All of them are good ways to make an income if the person is willing to put the work into them.  For most people, however, the easiest and best way to earn passive income is to invest money they have earned.
Many people assume that they will be able to live off their passive income when they finally retire.  And most people continue to work 40 hours per week investing a little bit of their money until they get there.  For those who have taken the time to figure out their skills and monetize them (I'm talking about earning money on the side here), that time could come gradually rather than all at once.
Almost everyone has a skill that they can market.  Think of something you love to do, and you are good at it, and market yourself to those who do not have that skill.  It can be anything from teaching piano lessons, to interior design, to something as simple as detailing cars.  Regardless of what you choose to do, you can usually earn about $30 per hour working on the side.  If you work hard enough, there is no reason you should not be able to pull an extra 15 hours per week with your side hustle.
Investing your $30 each hour into an account that earns a 4% dividend will net you around $1 per year (basic interest, not compound).  That means for every hour you put into your freelancing, you will earn $1 every year for the rest of your life.
There are then two options that you can use to build your net worth.  You can choose to reinvest the proceeds from your freelancing.  For many people this will be their choice.  The money will grow in a side fund, and it will grow considerably.  But at the same time you will continue to work just as hard as ever in order to one day simply be able to stop working all together.
The other option is to take those dividends in cash.  If you consistently work an additional 15 hours per week earning $30 per hour, after one year your account will be earning you $780 annually of passive income.  After 10 years that account will be earning $7,800 annually.  And after 30 years it will be earning $23,400 (this is all assuming no change in the base value of your investment, so the actual numbers will probably higher depending on the market).  Now the kicker is that each year you can cut back on the number of hours you have to work at your full time job by $780 worth.  Every year you can work less and less until finally you won't have to work at all.  That time may come at the same time most people are retiring, but you will have spent the past 30 years slowly retiring.
Now you may say, "yeah but…" and I know.  This analysis does not factor in taxes or inflation or the fact that you might not be able to do 15 hours of extra work every single week.  The point is not the amount or the earnings.  The point is you have a skill that you can monetize.   And every hour of using that skill can reduce your income need by $1 (or more if you can earn more than $30 per hour) every year for the rest of your life.  The math is simple, the work is hard, but at the end you will have passive income and a large nest egg to fall back on if dividends do not provide enough to keep up with your lifestyle (assuming other investments are meeting your living expenses).  If passive income is your goal, start now by putting your skills to work for you.
The following two tabs change content below.
Scott Sery
Scott Sery is a native to Billings, Montana. Within an hour in nearly any direction he can be found fishing, hunting, backpacking, caving, and rock or ice climbing. With an extensive knowledge of the finance and insurance world, Scott loves to write personal finance articles. When not talking money, he enjoys passing on his knowledge of the back country, or how to live sustainably. You can learn more about Scott on his website
Sery Content Development
Latest posts by Scott Sery (see all)