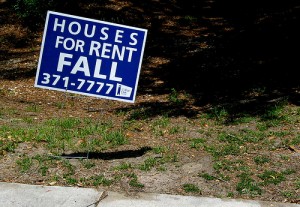 My best friend, Josh, bought his first home in the summer of 2009. He got a great deal and a low interest rate… and a year after he bought it, he got a pink slip at work.
Suddenly, Josh's big, new house felt like a big, new burden. While the 2,500 square feet had felt luxurious when he was gainfully employed, all those extra – and unused – rooms started to feel like wasted space and wasted money without a paycheck coming every other week.
But Josh didn't panic. Instead, he turned what could have been a modern-day financial tragedy into a story of triumph and overcoming adversity.
Looking for Investment Opportunities
Josh lived alone in that four-bedroom house for exactly a month after losing his job before a light bulb went off in his head. He could rent out the extra three bedrooms to help cover what his unemployment insurance couldn't. Within a few weeks, he had three tenants – all either friends or friends of friends – whose monthly rent covered his mortgage payments and then some.
A few months into his experiment as a landlord, one of Josh's roommates mentioned that he'd pay a premium to swap his smaller bedroom with access to the full bathroom down the hall to have Josh's master suite instead. Josh, still unemployed, took him up on the offer. Not long afterwards, one of his current roommates asked if his little brother could move in. Unfortunately, there wasn't an extra room in Josh's house, so Josh did what any investment-minded person would do: he gave up his own room and moved out.
Diving into Property Investment
At this point, Josh's house went from being his residence to his business. Thanks to the rent being paid by four tenants, Josh was making double his monthly mortgage and escrow payments. Not long afterwards, he finally found a new job, and discovered he was making more money than ever, thanks largely to the investment opportunities he'd seen in his own home.
It was now the end of 2010, and property prices and interest rates were still low, so Josh decided to dive deeper into property investment and buy another house. Because it was a second mortgage on a second house – and because applying for a home loan had changed dramatically in the previous years – Josh had to put down more money to secure the loan. He turned to his mother, who saw this as a good investment opportunity, who co-signed with him on the loan.
While Josh rented a small studio apartment, he found tenants for his new three-bedroom house. This time, it was a family of four instead of four separate renters, but their monthly rent still allowed him to pay the mortgage, insurance, and taxes on the property and net a 25% profit to boot. Josh's two investment opportunities were now paying him nearly $2,000 a month.
The Advantages of Property Investment
Josh's story isn't unique. Since the start of the Recession, demand for rental properties has exploded as the home loan application process has become more daunting. Many homeowners who couldn't afford to sell their home – like Josh – turned into accidental landlords; others took advantage of the investment opportunities in the housing industry to start a side business or even a new career.
With housing prices still below market value in many locations, property investment can make you money on two fronts right now:
You can collect rent on the property, usually enough to pay the expenses of owning and maintaining the house and often enough to net you a small profit.
Over the long run, housing prices will continue to climb out of the cellar, expanding the value of your holdings as you collect rent money on them.
But the benefits of these investment opportunities expand further, to your tax burden. The IRS allows landlords to deduct expenses on rental properties on their tax returns, including:
Mortgage interest
Property taxes
Homeowner's insurance premiums
HOA dues
Costs associated with maintaining the property
Costs associated with advertising for vacancies
I'm an optimist, and like to think that I've already seen the worst of what the housing market will throw at me in my lifetime. However, even if I'm wrong, property investment from a young age – like long-term investments in the stock market – gives you the cushion of time to recoup your losses should we suffer another downturn.
The following two tabs change content below.
Sean Bryant
Sean Bryant created OneSmartDollar.com in 2011 to help pass along his knowledge of finance and economics to others. After graduating from the University of Iowa with a degree in economics he worked as a construction superintendent before jumping into the world of finance. Sean has worked on the trade desk for a commodities brokerage firm, he was a project manager for an investment research company and was a CDO analyst at a big bank. That being said he brings a good understanding of the finance field to the One Smart Dollar community. When not working Sean and he wife are avid world travelers. He enjoys spending time with his daughter Colette and dog Charlie.
Latest posts by Sean Bryant (see all)