Almost every social gathering, whether it's a small get together with friends or family, or a larger event, is centered around food. The good news is that there are a lot of great budget recipes that can feed a larger group without killing your grocery budget. Whether you're hosting a four-course meal or bringing a dish to a potluck, this list of budget recipes will have you covered. Use pantry staples and seasonal produce to keep your wallet and your palate satisfied.
Brunch on a Budget
Not only does this recipe use cheap, easy-to-find grocery items, it's super easy to make. Just mix everything together in a slow cooker, wait a few hours, and you'll have a delicious, hearty dish. This recipe works both as a standalone meal or the perfect addition to a brunch gathering.
These egg cups are both adorable and easy to make. You'll love how the peppers add a splash of color. Serve these up with a piece of toast for a fast breakfast that also looks classy!
This spin on French toast is a welcome addition to any brunch spread. Plus, baking this cinnamon-y dish will have your home smelling amazing. Serve this budget-friendly dish with a few fresh berries on top to make it look delightful for only a few extra bucks.
Crowd-Pleasing Appetizers
This recipe allows you to get more bang for your buck than buying the frozen version of everyone's favorite appetizer. You'll probably want to double the recipe, since these little bites of heaven will fly off the plate quickly!
Anything on a stick is bound to be an instant hit at any gathering. You don't even have to be a good cook to make this fast and easy recipe work; with only four ingredients, this recipe is both cheap and fool-proof.
Here's another recipe that will only take you a few minutes to whip up. Add black beans, corn, or chicken to make these cheesy delights more filling. Serve with a bowl of salsa, and you're ready to go!
Holiday-Worthy Main Dishes
This hearty, flavorful soup stretches your dollar by using cheap ingredients like canned tomatoes and rice. It's easy to make and will easily serve a crowd. This is a beautiful soup that can make a great first course, or turn it into a standalone meal by serving it with fresh-baked bread.
Yes, you absolutely can create a restaurant-worthy pasta on a budget! This recipe uses cream cheese as a base, which is way cheaper than other types of cheeses. Add some broccoli or chicken to take this dish to the next level for a few extra bucks.
For being a classy food, quiche is surprisingly inexpensive to make. This recipe uses frozen spinach and premade pie crust, so it's also incredibly easy to throw together on short notice. Put tomato slices on top just before baking to make it look restaurant-quality.
For such a big piece of meat, frozen turkeys are surprisingly affordable. Keep the costs of a traditional turkey dinner low by asking your guests to bring a side dish – or, commit to keeping it simple and serve only cheap staples like mashed potatoes, green beans, and carrots.
Elevate Your Leftovers
Cheesy Ham and Potato Casserole
Turn leftover potatoes or ham into a rich, indulgent casserole bake. Using potatoes keeps this dish both budget-friendly and filling.
This is a great dish to fix throughout the year, but when done around Thanksgiving, replace the ground turkey with any leftover turkey you might have. I loved this homemade enchilada sauce, however you could use store-bought to keep your grocery list short and minimize prep time. This can be served as a meal, or bring it with chips to serve as an appetizer dip.
Pancakes aren't just for breakfast! These savory pancakes are the perfect way to elevate an otherwise bland root veggie. Serve these with an over-easy egg on top for a cheap yet impressive meal.
Decadent Desserts
Any type of apple will work with this recipe, so feel free to buy whatever is cheapest. This dessert is sure to be a welcome addition to any get-together.
With only three ingredients, this cake costs next to nothing but tastes like a million bucks, especially when served warm. No one has to know how easy (and quick!) this great dessert is to make.
This recipe is cheap because it uses canned pineapple instead of fresh. Serve this by itself, with a cherry on top, or with vanilla wafers on the side for dipping. One thing's for sure – you won't be leaving with any leftovers of this one!
A very big thank you to Deborah from The Harvest Kitchen for graciously allowing me to use her Chicken Enchilada Bake photo.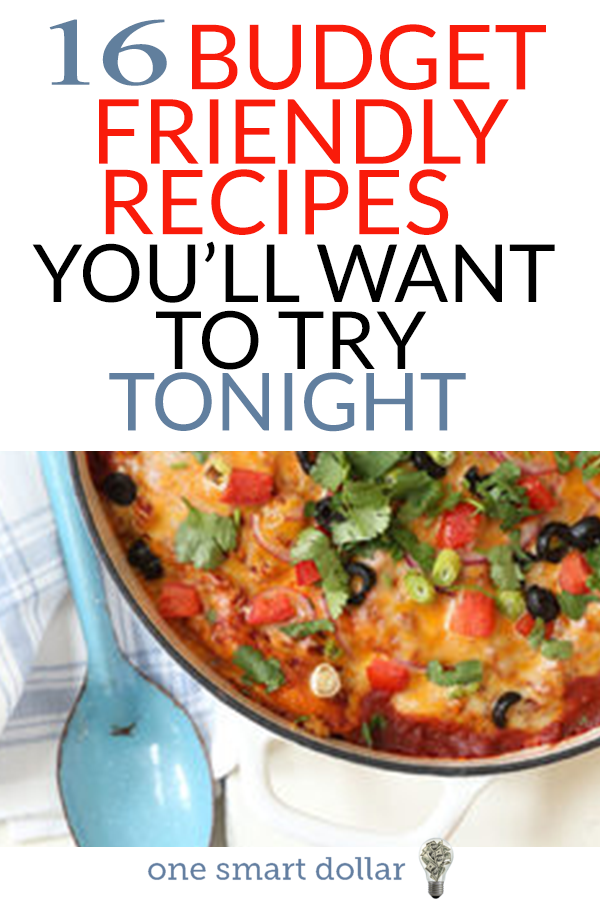 The following two tabs change content below.
Sean Bryant
Sean Bryant created OneSmartDollar.com in 2011 to help pass along his knowledge of finance and economics to others. After graduating from the University of Iowa with a degree in economics he worked as a construction superintendent before jumping into the world of finance. Sean has worked on the trade desk for a commodities brokerage firm, he was a project manager for an investment research company and was a CDO analyst at a big bank. That being said he brings a good understanding of the finance field to the One Smart Dollar community. When not working Sean and his wife are avid world travelers. He enjoys spending time with his two kids and dog Charlie.
Latest posts by Sean Bryant (see all)