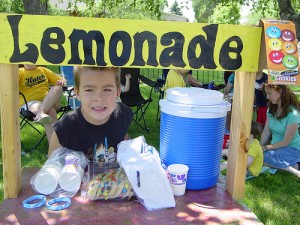 When people think about saving money, what immediately comes to mind are the little things.  They think that not eating out will get them a few extra dollars here, and skipping the morning latte will net some there.  Moving past this they will start to negotiate bigger items.  Refiguring what is paid for car insurance can save several hundred dollars, and getting out of credit card or bank fees can be just as profitable.  At the end of the month, cutting back on expenses will certainly make a difference to a person's net worth, but it might not be quite enough.  In these situations, the individual needs to earn more money.
Everyone has talents.  Some people have yet to realize what they are, and other people know they have a talent but they do not realize that anyone would pay them to perform that talent.  They think that their hobbies are just that, hobbies that provide them with some peace of mind when stress builds up.  In order to capitalize on making more money on the side, a person needs to step back and look at all the different businesses out there and the services or products they provide.  Things that come easily for one person might be difficult for another.  There are a number of different interests: landscape design, working on computers, art, interior design, workplace organization, cooking, cleaning, leadership skills… I could go on.  The bottom line is, take what you are good at, what you enjoy, and turn your hobby into a side job.
The hardest part about trying to make more money with a side job is figuring out how much energy one wants to put into it.  Nearly any hobby could turn into a full time job, or it could remain as freelancing income on the side.  The important thing is that regardless of how much is made, the main focus is the customer.  Too many people fail at business because they offer a service that they want to do.  Instead, a few minutes of talking to the customer and understanding what he or she wants will go much further than offering a perfect skill tailored to the wrong person.  If you can figure out what problem the customers have, and offer a solution before they even suggest it, they will pay you whatever you are asking.  You have suddenly become an invaluable resource to them.  And better yet, they will tell their friends.
Cutting back on unnecessary expenses is great.  It always feels good to know that you have saved money.  But sometimes bills pile up, or pop up unexpectedly, and there needs to be some extra money coming in.  All it takes is a three step process.  Figure out what talents you have.  Learn who will pay for that skill.  Market it directly to them, tailoring your service to their needs.  This can all be done through word of mouth; fancy websites, networking events, and business cards are not necessary.  Just the drive to succeed, and knowing who could benefit the most will bring in the extra cash needed each month.
What is a side job that you have tried in order to make more money?
The following two tabs change content below.
Scott Sery
Scott Sery is a native to Billings, Montana. Within an hour in nearly any direction he can be found fishing, hunting, backpacking, caving, and rock or ice climbing. With an extensive knowledge of the finance and insurance world, Scott loves to write personal finance articles. When not talking money, he enjoys passing on his knowledge of the back country, or how to live sustainably. You can learn more about Scott on his website
Sery Content Development
Latest posts by Scott Sery (see all)