This article is be contributed by my wife, Samantha Bryant.  Samantha is president of Samantha Bryant PR a Denver, Colorado based public relations consultancy.   
Are you dreaming of a "DIY" holiday party? You are in luck. There are many ways to save money this holiday season, especially when it comes to ringing in the holiday cheer. Throw a Christmas party that even Martha Stewart will be in awe of, with the best in décor, food and fun – all staying within a DIY budget. Check out the below Christmas party ideas:
Holiday Party Food for Everyone's Taste Buds
You will be sure to be on Santa's nice list with a variety of simple Christmas party food options for guests to munch on. Something so delicious can be so very simple to make yourself. Who needs a caterer when you can easily whip up some fun appetizers from the comfort of your own kitchen?
For guests with a taste for something savory, there are several Christmas recipes to choose from that all guests will quickly dive into. My favorite go-to party recipe is so easy. Simply purchase some Pillsbury Crescent rolls and fill them with you favorite filling and bake according to the package directions. A personal favorite is a vegetable cream cheese filling, but there are so many other varieties. Try spinach artichoke or even a crab Rangoon filling.
Also, try a sophisticated twist on Caprese salad. All you'll need are some skewers. Add cherry tomatoes, basil leaf and a small chunk or ball of mozzarella (repeat steps for a full skewer). Once plated, drizzle balsamic vinegar and olive oil over the skewers, season with pepper to taste.
There's nothing easier than a Crockpot appetizer. Simply throw everything in and you can spend the rest of your time prepping for an amazing Christmas party and tackling all items on your party planning checklist. Try an easy, cheesy dip. Just throw in one package of Velveeta, one can of chili and one pound of medium or spicy sausage browned and crumbled.
To top off those savory appetizers, with something sweet, it can be as simple as chocolate covered pretzels. Purchase some vanilla and chocolate almond bark at the grocery store. Melt each one separately in the microwave and dip each pretzel into the dip. Then put the dipped pretzel on a baking tray with wax paper. If you really want to turn up the holiday spirit a notch, sprinkle them with red and green sprinkles before they dry.
What's Your Christmas Part Theme?
No party is complete without a Christmas party theme. One classic theme is always the ugly Christmas sweater party. It's always fun to go on the hunt for the ugliest sweater, whether it's in your grandparent's closet or the aisle of the Goodwill.
If you are already missing the hot summer sun, try a reverse Christmas in July party. Make it extra tropical with a beach-theme in the middle of winter. Deck your party with tropical drinks (umbrella included), beach balls, tropical shirts, Hawaiian skirts and of course Beach Boys holiday music.
The best part of the holidays are the plethora of movies sharing holiday spirit. From classics, like It's a Wonderful Life and Miracle on 34th Street to getting a good laugh with A Christmas Story or National Lampoon's Vacation. Why not have a movie marathon party? Add some fun interactive elements to your party by donning your best costume representing your favorite character or make a drinking game out of it. Every time you hear someone say, "Merry Christmas", take a shot.
Don't Forget the Décor
Once you have your menu planned, theme set, it's now time to think about party décor. Yes, you may have your Christmas tree set in place and wreath on the door already, but to throw a party to remember spice things up with some unique centerpieces.
Candles add atmosphere to any room, especially during the holidays. Go beyond basic candlesticks and fill mason jars with green and red holiday M&M's, placing a tea light candle on top. It adds a pop of color. You can also do the same with cranberries.
Ornaments are too pretty to limit just to your tree. Find a fun variety of bowls, from your best silver to that funky bowl you found on vacation. Fill them with ornaments and you easily have a beautiful centerpiece.
With all of the above elements, from food to themes and décor, there's no doubt you will be dreaming of a very, merry holiday party this year.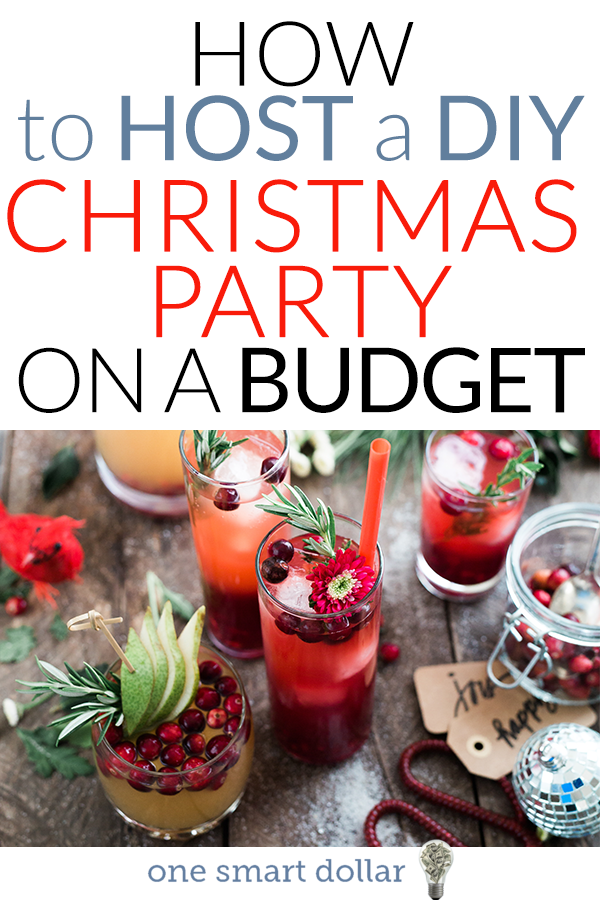 The following two tabs change content below.
Latest posts by Samantha Bryant (see all)