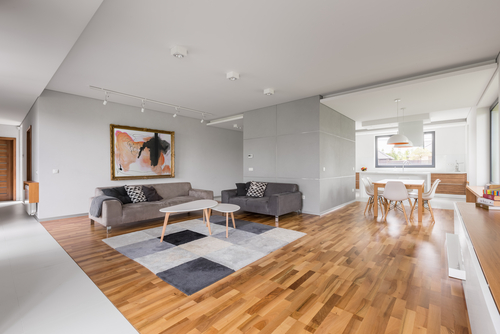 Renting your first apartment can be intimidating, but it's also an important financial moment. You'll either reap the benefits of your purchases for years or make the same first-timer mistakes that plague so many. There are dozens of first apartment checklists — these are helpful, but prioritization is more important for a successful furnish. Dividing items by "need" vs. "want" allows you to save money without scarifying the feel good feeling of your first place.
Let's take a walk through your new home, and find how what you need and what you want.
Living Room
Needs: Couch, TV/stand, lighting, table
If you're like the majority Americans who enjoy binge-watching your favorite shows, you'll be spending a good amount of time in your living room. When it comes to your couch and TV, it's important to make a smart investment into each. Apartment dwellers must navigate the world of furniture for the best deals on couches, loveseats and side chairs. This requires patience, as not all deals are created equal. One way to find newer items without large price tags is estate sales.
Take a similar strategy with TVs by looking for refurbished, returned or "open box" models. Open box models are goods that have been displayed on the sales floor or have been sitting in stock for longer than usual. If you're only looking to watch TV and movies, you can probably get by with 720p or 1080i, opposed to the high-end 1080p. Compare models in store to see if you find the difference significant. Lastly, make sure you're not doubling up on features. For instance, a Smart TV will come with apps like Netflix, Hulu and YouTube. But if you already have an Amazon Fire Stick or similar device, the apps are already available to you. There are plenty of ways to save on the rest of the your living room furnishings. From shopping at Ikea to find affordable items or building shelves yourself with some Pinterest inspiration.
Wants: Wall art
Wall art doesn't serve a practical purpose, but it can keep spirits high and be a conversation starter with guests. If you're taking your relationship domestic, consider making your own art or with the help of an instructional class. Or save on art purchases by searching for pieces made by artists in your neighborhood coffee shop or via social media. Contact the artists to haggle (politely) or to collaborate on a custom piece.
Bathroom
Needs: Shower head, shower curtain/hooks
Your apartment will likely come with an installed shower head, but take control of water usage by shopping for your own water-usage-friendly model.
Shower curtains have traditionally needed separate hooks for hanging, but new designs are "hookless" and have slots that slip over the shower rod. These cost about $5 to 10 more than a shower curtain and hooks combined. However, you'll avoid any mildew build-up on shower hooks and have one less item to move when the time comes.
Wants: Shower speaker
Dropping $20-100 on a waterproof shower speaker might not be the most important investment. Or is it? Singing has been linked to lower cortisol (stress) and better immune system strength. If a shower-bound amp inspires you to flex your lungs in the morning, splurge on a well-reviewed speaker.
Bedroom
Needs: Bed, drawers
For the bedroom, focus on where you'll spend most of your time — the bed. Research mattresses online to find the construction type, thickness and comfort level that meets your needs.
You'll also need a dresser and/or side tables to store your clothes. These pieces can be found at second-hand and consignment stores for those on a tight budget. When you're looking at the selection at the store, a wooden piece is a great choice, as it can be refinished with new stain or paint if you're up for a small project.
Wants: Egyptian-Cotton Bed Sheets
Nice sheets are a coveted item in the bedroom. Luxurious ones, like Egyptian cotton, range up to 1000 threads per square inch. They gained popularity when they were promoted by one of the most trusted reviewers in the world, Oprah. She added the item to her "Oprah's Favorite Things List" a few years ago, and said the sheets are "sensational for anyone who loves to hang out in bed."
Kitchen
Needs: Kitchenware, silverware
Finding the right cookware can be overwhelming, but there are tips for finding the right style for you. Delish recommends a cast-iron set, such as those from French manufacturer, Le Creuset. The Le Creuset pieces range in price from $99 to $340, but you can also buy a set for under $600.
Wants: Dinner delivery services
Companies like Blue Apron, HelloFresh and Plated sparked the fresh food delivery movement. The concept is simple, fresh ingredients and recipes are delivered to your door weekly. The cost can be substantial, but if you live in somewhere like Manhattan, the convenience can actually save you money.
The bulk of your budget and planning will go toward where you spend the most time, the living room and bed. Focus on these two aspects first before expanding to other areas of your home. There are plenty of ways to save money when home furnishing shopping, from finding deals to DIY hacks. Determine what you need and what you want, then, get creative, get frugal and enjoy.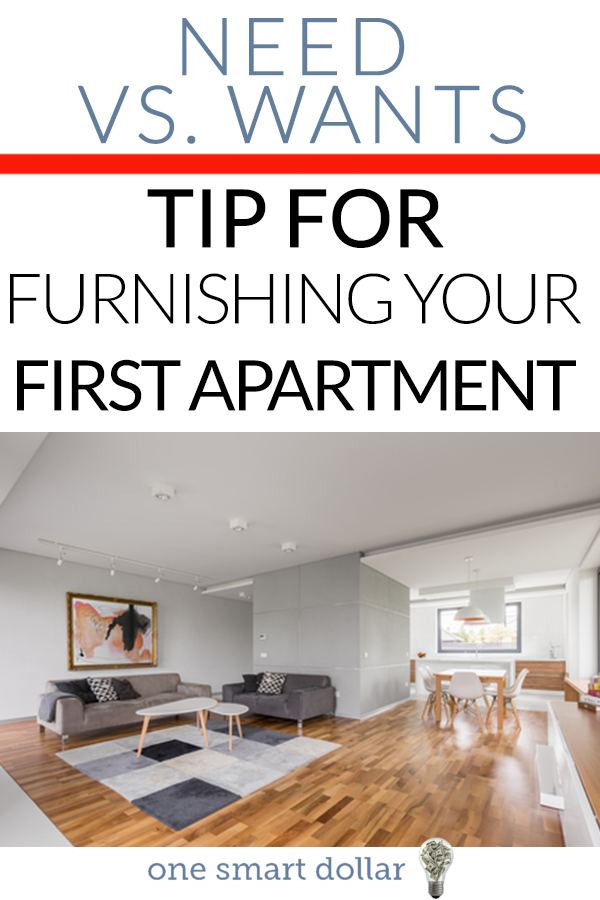 The following two tabs change content below.
Sean Bryant
Sean Bryant created OneSmartDollar.com in 2011 to help pass along his knowledge of finance and economics to others. After graduating from the University of Iowa with a degree in economics he worked as a construction superintendent before jumping into the world of finance. Sean has worked on the trade desk for a commodities brokerage firm, he was a project manager for an investment research company and was a CDO analyst at a big bank. That being said he brings a good understanding of the finance field to the One Smart Dollar community. When not working Sean and his wife are avid world travelers. He enjoys spending time with his two kids and dog Charlie.
Latest posts by Sean Bryant (see all)