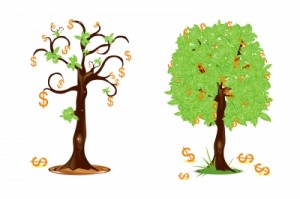 Throughout our lives we will always make mistakes.  Some are not too bad, others devastating, but regardless we learn from them.  When it comes to your money, it is important to take the time to learn from other people's mistakes.  You can see what they did wrong, and make sure you do not do the same.  While there are more than 5 mistakes out there, you can save yourself a lot of worry by making sure you do not make these ones.
Ignoring Your Credit
Not knowing your credit score, or not taking the time to review it annually, is one of the worst mistakes a person can make.  In the past your score was just used if you needed to get a loan.  Now it is used in everything.  In fact, there are times you can be denied insurance, or have to pay a higher premium if you have an unfavorable score.  Head over to Credit Sesame and check your report.  This is the only government approved site to check your credit report from all three reporting agencies.  Want to know more about how having good credit helps you?  Check out Ramit Sethi's blog on why maintaining your credit is important.
Chasing Returns
Most of us have switched bank accounts at one point or another.  The reason is often that a new account is offering a little better interest rate.  While it is good to go with a trusted company that offers the best rate, it is unreasonable to start a whole new account because you can get half a percent higher at another bank.  Even if you have $50,000 in your account, that half a percent will only get you about $20 extra per month in interest.  Save the hassle and keep what you have.
Carrying a Credit Card Balance
There are times when emergencies pop up and you have to put things on your credit card.  And there are times that you cannot pay it off in full at the end of every month.  But if you are consistently using your card and carrying a balance, you might as well be throwing your money away.  Most cards charge a borderline usurious rate of at least 10%-15%.  If you have credit card debt, take the drastic measures needed to get it paid off as soon as possible.  One way to help the process is by transferring any balances over to a 0% balance transfer credit card.
Failing To Have An Emergency Fund
If you need to carry a balance on your credit card during emergencies it is probably because you do not have an emergency fund.  With all the literature out there about keeping a fund set up for emergencies and opportunities, you are making one of the most rookie mistakes if you do not have one.  There is no reason you cannot set aside $25 or more per month (to begin with) to start this fund.
Impulse Investing
Much like impulse buying, impulse investing rarely ends well.  Take your time to do some research before investing in an unknown company.  If someone tells you it is a limited time offer, or you have to act now to get these rates or deals, then you should know it is most likely a scam.  Personally I have invested on impulse, and I lost 100% of my investment.
Smart money management comes with time and knowledge.  Unfortunately many people do not take the time to gain that knowledge and make foolish mistakes along the way.  You have probably spent at most 5 minutes reading this article.  You are now better educated than 90% of Americans.  Spend a little more time and check your credit score now, and make sure you are safeguarding against making these same mistakes.
The following two tabs change content below.
Scott Sery
Scott Sery is a native to Billings, Montana. Within an hour in nearly any direction he can be found fishing, hunting, backpacking, caving, and rock or ice climbing. With an extensive knowledge of the finance and insurance world, Scott loves to write personal finance articles. When not talking money, he enjoys passing on his knowledge of the back country, or how to live sustainably. You can learn more about Scott on his website
Sery Content Development
Latest posts by Scott Sery (see all)