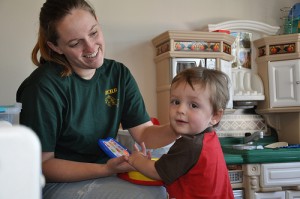 When one parent decides to stay home with the children, families will often have to do quite a bit of belt-tightening in order to make the transition to one income. One place where it may seem smart to economize is on life insurance for the stay-at-home spouse. After all, without an income to replace, why would you need the insurance?
However, going without life insurance just because you are not currently working for a paycheck can be financially dangerous for your family. Here's what you need to know about insurance for non-working spouses:
Imagine Paying For the Stay-At-Home Spouse's Work
You may remember when several salary calculators determined that a stay-at-home parent's earnings would be over $100,000 if he or she were paid for her work. Because a stay-at-home spouse is making daycare, housecleaning, convenience foods, laundry services, transportation and other services unnecessary, he or she is saving the family a great deal of money that a single parent would have to shoulder in order to keep the everything going.
And considering the fact that the $100,000 amount is for a single year of stay-at-home parenting, it's pretty clear that even a non-working spouse needs good life insurance.
What Would Life Be Like Without You?
It's also important to remember that if a stay-at-home spouse passes away, there's much more than just an immediate financial impact. The children and the surviving spouse will all be emotionally devastated, and will need some extra TLC. With no or minimal life insurance on the stay-at-home parent, the other parent may find himself having to work extra in order to make ends meet—which means both his and the children's needs might be neglected. In order to weather the loss of a parent, many families might find that the working spouse will need to stay home while everyone comes to terms with their loss.

Do You Ever Plan To Return to Work?
Another aspect of life insurance that may not occur to couples in the midst of early child rearing is the fact that the stay-at-home parent may want to eventually return to the workforce. If you were to die before that happens, your family will also lose out on the potential income you could make in the future. Buying enough insurance to cover several years of your anticipated income could help maintain your family's standard of living.
Leaving a Legacy
Finally, it's worth thinking ahead toward your children's adulthood and their own children. If you hope to be able to leave money for your kids or provide financial help to your grandchildren, it makes sense to be well-insured now. That means that no matter what happens, you could leave some life insurance in a trust fund to take care of your descendants, even if you're not there.
The Bottom Line
It's a mistake to think of life insurance as only being there to replace an income. There are many aspects of your day-to-day life that will cost your family money if you're not there to do them. Being a well-insured stay-at-home parent is an excellent gift to give to your family.
The following two tabs change content below.
Emily Guy Birken
Emily Guy Birken is a freelance writer and stay-at-home mom who is passionate about personal finance. She lives in Lafayette, Indiana with her mechanical engineer husband and her toddler son. She blogs about parenting at
The SAHMnambulist
and about the funny side of money at
Live Like a Mensch
.
Latest posts by Emily Guy Birken (see all)