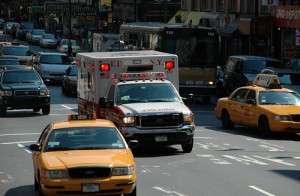 When I was 26 years old I thought I was untouchable and that bad things couldn't happen to me. In fact, that's the mentality of most in that age group. Having just returned from my honeymoon, I never thought that I would be facing tragedy in my life. Unfortunately, that was far from the truth. That mentality could have had serious effects on my family, not only emotionally, but also financially.
As I look back on that fateful day, it started out amazing. I was a newlywed and had just returned from a weeklong relaxing vacation in Mexico. I was on the verge of leaving the small investment research company I had been working for to accept a new job at a major bank. This was a step that would really help boost my career and everything seemed to be falling into place. I was untouchable, or so I thought.
I hopped off the bus in the Chicago loop, grabbed a coffee and started the five-block walk to my office. As I came up to a red light, I waited at the corner. As soon as I saw the walk sign I started making my way across and that is when I heard it. First, there was a squeal of tires, and then a loud crash. I looked over to my left and all I could see was a mini van barreling right at me. I am a pretty athletic person, so my first instinct was to jump. As I did that, my body made contact with the windshield and I was out.
After I woke up on the sidewalk where I had been thrown, I began walking, dazed and confused, through the smashed storefront window of a Corner Bakery. Later, I had found out that the van had hit a trashcan right after me and sent it into the restaurant. I was covered in blood and all I could think about was that I was scared to die. Not just because I was so young and had so much more to offer, but because I had a wife who counted on me just like I counted on her.
Fast-forward a few months, quite a few doctors' appointments later and a lot of time spent with a physical therapist and I managed to make a full recovery.
The Importance of Insurance for Medical Bills
This was certainly an abnormal scenario, because not everyone is going to wake up, go to work and get hit by a car. However, it does show the importance of having proper insurance. The company I worked for was small, so the health insurance wasn't exactly the best. I did have a short-term disability insurance policy, which helped cover the loss in wages after my vacation and sick days had been used.
We found out a few days after the accident that the man who had hit me did not have car insurance. This is where it became important that on my car insurance policy I had a uninsured/underinsured rider. This allowed me to receive a lump sum payment that would cover the nearly $30,000 in medical bills. This came as quite a shock to me since I was a pedestrian and not in a car, but I wasn't going to complain.
Protect Your Family With Life Insurance
How close I came to death is what affected me the most. I had a very minimal life insurance policy through my job that would have paid the bare expenses. It wouldn't have given my wife any breathing room to allow her to continue living the lifestyle that we were accustomed to living.
Having a decent sized life insurance policy is extremely important no matter how old you are. As you get married and have children, it becomes more and more vital. Dealing with a loss is hard enough. Adding the strain on finances can be more than one person can handle.
Final Thought
None of us wake up in the morning thinking today is the day that something is going to happen to us. We should, however, make sure we have a plan in place. Like my parents always say, "it is better to be safe than sorry." Had I not had proper insurance, things could have been a lot different for my wife and I financially during the first couple years of our marriage.
The following two tabs change content below.
Sean Bryant
Sean Bryant created OneSmartDollar.com in 2011 to help pass along his knowledge of finance and economics to others. After graduating from the University of Iowa with a degree in economics he worked as a construction superintendent before jumping into the world of finance. Sean has worked on the trade desk for a commodities brokerage firm, he was a project manager for an investment research company and was a CDO analyst at a big bank. That being said he brings a good understanding of the finance field to the One Smart Dollar community. When not working Sean and he wife are avid world travelers. He enjoys spending time with his daughter Colette and dog Charlie.
Latest posts by Sean Bryant (see all)