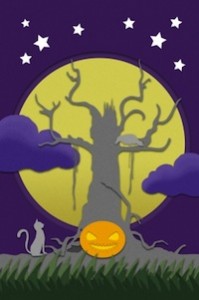 Halloween is one of those holidays that appeals to everyone, from tiny tots to college students to parents. Unfortunately, all of that celebrating can be costly. According to the National Retail Federation, not only will seven out of every ten Americans be celebrating the spookiest holiday on the calendar in 2012, but they will be spending $80 on average per person. That figure includes spending on costumes, decorations, and candy. While $80 is small potatoes compared to the average spending on Christmas, it can still take a big fat bite out of your fall budget. Here are some tips for lowering your Halloween costs, without sacrificing a single eerie moment:
Costumes
The trick to having a memorable costume isn't necessarily about having the perfect store-bought mask or outfit, or even about having the incredible sewing skills to do it at home. It's in the details, which you can get right without spending a penny.
Once you know exactly what you want to go as, start looking through what you already have at home that can be used to create your costume. If you've got anything left from last year's costume, see if it can be recycled. For instance, a cape from a Dracula costume could have a new life as Superman's cape.
You may also want to look for clothes that could double as a costume, either in your own closet or at a thrift store. For instance, many children's costumes can start with a single colored sweatshirt that you add embellishments to. For instance, an orange sweatshirt can easily become a jack-o-lantern with black fabric paint or even electrical tape. Just add a green hat and black pants, and you have an adorable pumpkin.
Cardboard boxes are invaluable for costume making, both for actual costumes—like robots, fake muscles, or even horses for knights on "horseback"—or for accessories, like a top hat or a lantern. Creating your costume out of the cardboard is half the fun.
Even if you're all thumbs, you don't have to spend a fortune on a great looking costume. Check out Freecycle for local costumes that people are looking to get rid of for free. Or, if you have a specific costume in mind, see what deals people are offering on eBay for last year's duds.
Decorations
Other than purchasing pumpkins, there is very little that you have to buy in order to have a suitably spooky house. Everything from spiderwebs to bats to tombstones to flying ghosts can be made using items you have lying around the house. For ideas, check out sites like Pinterest to see what your recycling bin can offer up as raw materials for your DIY Halloween decorations.
In addition, you can also find lots of wonderful printables and Halloween decorating ideas from sites like TipNut. Rather than shopping the local department store for your decorations, it's much more fun to surf the web and figure out fun and free ways to get ready for the holiday.
As for the pumpkin, carving elaborate designs has become a big business. You can now purchase kits that will provide you with branded images from big names like Star Wars or SpongeBob. As tempting as those kits can be, you can often find the kinds of stencils they offer for free online (check out
Squidoo
's list of free pattern sites), and you probably already have the kitchen knives and other tools you need.
Candy
At the center of all Halloween traditions is candy. And buying enough goodies for your expected trick-or-treaters (plus a few extra for "quality control") can be rather spendy. If you can be trusted to leave several bags of candy untouched for several weeks, buying your candy in bulk at a discount store is generally the cheapest option.
Even if you have to do your candy shopping close to the big night to save yourself from temptation, it is still possible to save on candy. One option is to purchase either generic candy or some of the less expensive name brands, like Dum Dums. Sugar candy tends to be cheaper than chocolate, and so you can get more bang for your buck. Handing out lollipops and Smarties can also help you avoid ethical implications of commercial chocolate, meaning you save money and you can feel good about where your money is going.
The Bottom Line
Halloween used to be much more of a DIY holiday. Let's get back to the fun of making our own costumes and decorations. It's not only cheaper, but it also makes the holiday anticipation even more fun.
The following two tabs change content below.
Emily Guy Birken
Emily Guy Birken is a freelance writer and stay-at-home mom who is passionate about personal finance. She lives in Lafayette, Indiana with her mechanical engineer husband and her toddler son. She blogs about parenting at
The SAHMnambulist
and about the funny side of money at
Live Like a Mensch
.
Latest posts by Emily Guy Birken (see all)