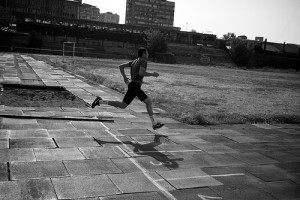 Finding areas where you can save a little more money should not be too difficult.  What is difficult is sticking to your resolution to cut back in order to save even more.  The premise behind Miser for a Month is to give you encouragement for one month out of the year to really cut back.  Some of the savings can be continued indefinitely, others cannot.  While the premise behind One Smart Dollar is to live rich, and many of the readers already follow these tips and tricks, being a Miser for a Month means taking it one step further.  If you pack a lunch 4 out of 5 days make the commitment to pack it every day.  If you carpool with one other person to work, carpool with two.  Make the sacrifice to really save.
Buy Generic
Some products you really need to buy the name brands, especially with foods.  The generic ones just do not have the same rich taste.  However, there are many things that you can buy that will perform, function or taste the same as name brands, but only cost half as much.  This month, if there is a generic version, try it out.  You might not be able to notice a difference.  If you want to make sure you are still getting quality, check out reviews with Consumer Reports.
Shop Online
There are some things that you need right away, and others that it just is not reasonable to pay shipping costs (for example, groceries that could spoil and need special packaging and overnight service).  For everything else, taking the time to look around online will often land the exact same product, at a discount.  The key is to do your research first; if nothing else you will know you are getting the best deal in the store.
Use Groupon or a Similar Site
There are many services you can do without during your Miser for a Month.  But there are some that are still necessary.  The car will still need to have the oil changed, the dog will still need groomed, and the house will need maintained.  There are many sites online, such as Groupon, where businesses will offer a coupon that will land you half off or more of various products or services.  If you need the service anyways, why not take a look online.  Chances are you can find a coupon that will let you save money.
Cancel the Gym
If you are
riding your bike to work
, you should be getting plenty of exercise.  Since you are getting your exercise by commuting to work, there is no need to spend money to go somewhere to get even more exercise.  You can jog outside for free, and do other calisthenics at home
without paying the fees at a gym
.  Give it a month; you can always go back later (besides, spending that money on the gym is a great motivator to get you to actually go to the gym).
Negotiate Your Credit Card
If you are carrying a balance on your credit card, you are most likely spending an outrageous amount on interest.   There is a way to get ahead with your credit card and it usually only takes a phone call to the customer service department.  Explain your situation, and tell them you want to get your debt under control.  Explain that their interest rate is too high, and you would be able to make more timely payments if it could be cut.  For instance, if you are paying 20% interest, offer 10%.  Most likely you will be turned down, but keep your cool and ask to speak with someone who has the authority to make those decisions.  If you are still unsuccessful then you can transfer your balance to a 0% balance transfer credit card.
Finding ways to cut costs will help you to be able to sock away more money this month.  Some of the tips will help you save money for months to come.  If you have already done these tips, pat yourself on the back and look for ways to make them work even more in your favor.  In the end there are many ways that you can save money this month.  Be committed for one month, and join the challenge of how much you can save.
The following two tabs change content below.
Scott Sery
Scott Sery is a native to Billings, Montana. Within an hour in nearly any direction he can be found fishing, hunting, backpacking, caving, and rock or ice climbing. With an extensive knowledge of the finance and insurance world, Scott loves to write personal finance articles. When not talking money, he enjoys passing on his knowledge of the back country, or how to live sustainably. You can learn more about Scott on his website
Sery Content Development
Latest posts by Scott Sery (see all)