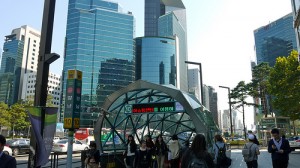 Well today is my wife's official due date and as you can tell from no updates this week that she is still pregnant.  We are all fingers and toes crossed that it happens soon.
Last night we were out to dinner and we talking about how we both have the itch for a vacation.  We were just in Costa Rica in March, but I get this way every six months or so.  For those of you who know me well, know that one of our passions is traveling.  It's the reason why we budget and living a frugal lifestyle.
In the five years that my wife and I have been married we have been lucky enough to visit 10 countries.  What we were talking about doing this time around is doing a two week vacation in South Korea and Thailand.  We would spend a week in each.  I have enough airline miles from my travel rewards credit card that we could fly for free.  My wife lived in Seoul when she was in third through fifth grade so she really wants to make a trip back.
How about we get on with some of my favorite personal finance articles this week.  If you would like to see yours on this list all you need to do is add me to your round-up.
What Products to Stockpile for Maternity Leave – Canadian Budget Binder
Moving From Employed to Self-Employed, What am I Forgetting? – Eyes on The Dollor
Saving up to Buy a Place in an Expensive City – Mo Money Mo Houses
Should We Really be Concerned About the Fiscal Cliff? – Frugal Rules
Advance Planning for Life After College – The Family Finances
How Do You Get Rich: Nickel and Diming Your Way to Real Wealth – Money Life and More
How to Successfully Negotiate Lower Prices in Any Situation
– Money Crashers
Ways to Graduate College Debt Free – Modest Money
Ways to Save Money on College Textbooks – Work Save Live
5 Reasons Why Your Next Car Should be a Green Ethical Hybrid Car – This That and the MBA
8 Essential First Date Tips for Men – Fearless Men
Carnivals
Canadian Personal Finance Happy Hour
Carnival of Financial Camaraderie
The following two tabs change content below.
Sean Bryant
Sean Bryant created OneSmartDollar.com in 2011 to help pass along his knowledge of finance and economics to others. After graduating from the University of Iowa with a degree in economics he worked as a construction superintendent before jumping into the world of finance. Sean has worked on the trade desk for a commodities brokerage firm, he was a project manager for an investment research company and was a CDO analyst at a big bank. That being said he brings a good understanding of the finance field to the One Smart Dollar community. When not working Sean and his wife are avid world travelers. He enjoys spending time with his two kids and dog Charlie.
Latest posts by Sean Bryant (see all)