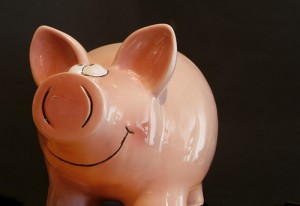 Each day and each purchase is an opportunity to save money and be frugal. When practiced regularly, taking small steps can yield measurable and encouraging results. Here are some helpful tips to keep in mind:
Have a plan. Before you buy, be mindful of your anticipated spending. To do this, think about what you need, where you'll purchase it and how you'll save.

Start with a simple list of what you plan to buy and do throughout the week.

Consider where you'll shop and how you can reduce your spending.
To avoid surprise spending here and there which can creep up leading to a large credit card bill, stick to your plan.

Look for savings opportunities so you can spend less than you intended. Do some quick research online:

Review weekly ads at stores near you to spot sales.
Search for printable coupons for retail, grocery and restaurants.
For entertainment option, look at group buying sites such as Groupon for deals.

If you purchase Groupons through a savings site, you can earn cash back (a percentage of your transaction deposited into a free account) on top of your savings. The rate today (4/3/2012) at BeFrugal.com is up to 8%.

Whenever possible, make all your purchases online. Here's why:

There's no wasted time or gas when you drive to the store and can't find what you went there for.
You avoid sales pressure to buy additional items.
You avoid embarrassment when deciding to put items back.
You can find free coupon codes online to save money.
You can earn cash back for free when you shop through a savings website.
You can use a rewards credit card to earn points or more cash back.
Consider immediately saving the money you would have spent if you were not using these tactics. You can deposit it into your high yielding savings account and watch it add up.
By Jon Lal, founder of coupons & Cash Back website BeFrugal.com, which offers online coupons in addition to free Cash Back. When you  sign up for a free Cash Back account for a limited time you can get a $10 bonus in addition to great savings offers. Join now!
The following two tabs change content below.
Sean Bryant
Sean Bryant created OneSmartDollar.com in 2011 to help pass along his knowledge of finance and economics to others. After graduating from the University of Iowa with a degree in economics he worked as a construction superintendent before jumping into the world of finance. Sean has worked on the trade desk for a commodities brokerage firm, he was a project manager for an investment research company and was a CDO analyst at a big bank. That being said he brings a good understanding of the finance field to the One Smart Dollar community. When not working Sean and his wife are avid world travelers. He enjoys spending time with his two kids and dog Charlie.
Latest posts by Sean Bryant (see all)