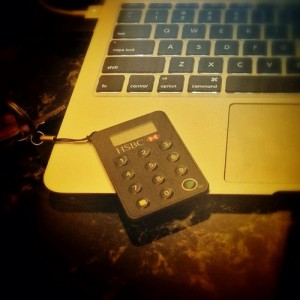 Not all that long ago, a trip to the bank for a deposit, withdrawal or even to simply cash a check was an ordeal. It could mean standing in long lines, waiting to speak with a teller or banker. You needed deposit slips and other documentation, which meant you needed to gather it all up before you took the trip to the bank.
It's hard to believe that, just a few years ago, it was difficult to easily access your own money and accounts. Over the past few decades, there have been some major advancements in the banking world that have effectively changed the way most of us in America, and even all over the world, bank.
Here are a few of the main ways technology has altered the way we bank by shortening – or even eliminating – the lines, lessening our paper trails and more:
The ATM
The automatic, or automated, teller machine seems commonplace in our society. If you're in a reasonably large city or town, you can expect to find at least one ATM easily and maybe even quite a few ATMs.
The ATM was first introduced to the world in 1969. Chemical Bank, in Rockville Centre, NY, installed the machine so their customers would be able to access money from their accounts to pay utility bills. The machine was such a hit that, by the 1980s, ATMs were more commonplace, and could dispense cash and accept deposits when a bank member entered a PIN number.
Drive-through ATMs are now common and very popular due to their convenience. They've become so popular however, that waiting in line at a drive-through ATM might take almost as much time as waiting in line inside to see a teller!
Phone Banking
Balancing your checking account is hardly anyone's idea of a good time, but it's one of the most important ways to manage and keep tabs on your financial situation. Telephones have been around for a while, but it wasn't until relatively recently that banks began offering phone services to customers.
Now, most banks offer this service 24/7, so customer can check their balance and other information any time they need to. Even this technology has gotten more advanced in recent years. Some phone banking services allow check account holders to transfer funds, find out the last deposits and withdrawals made, make payments and make inquiries.
Like the ATM, account services can be accessed over the phone once a member enters his or her unique PIN.
Online Banking
Even more convenient than phone banking is online, or Internet, banking. According to Mybanktracker.com, online banking "revolutionized the banking industry." To take part in online banking, customers of a certain bank would need to set up an online account with a unique username and/or email and a strong and secure password.
With an online banking account, checking account and savings account holders can manage their accounts easily without having to make a trip to the bank. Check balances, make payments, transfer funds between accounts, see images of checks and deposit slips, check paperless statements and bills and check their transaction history.
Online banking is useful for many reasons. It all but eliminates the need to step into a branch and it can be accessed anywhere on a computer with a safe and secure Internet connection.
Mobile Banking
Similarly to online banking, mobile banking has improved convenience for bank customers by giving them yet another way to check their accounts virtually anywhere. Since the prevalence of people who use smartphones to get online surpasses the number of people who get online on a computer, it's no wonder mobile banking has become so popular.
Like online banking, mobile banking gives you the ability to check balances, transactions, and will even give information about where the nearest ATM is. And more recently, mobile banking has incorporated mobile deposit capabilities.
To deposit a check with a smartphone, users would need to log into their mobile banking app and tap mobile deposit. Then, after they've signed the check, they would need to take a photo of the front and back of the check, and maybe confirm the amount. If the deposit photos are accepted, the check will be deposited without the user having to use an ATM or step inside their local branch.
Teller Assist from Bank of America
These new teller machines from Bank of America aren't any less automated than traditional ATMs. Users can still do things like check their balance, make deposits, withdraw cash and so on. But now, these machines allow Bank of America customers to speak with a real person live on a video monitor.
A teller, working remotely, converses with a customer over the screen and can carry out tasks for the customer an ATM couldn't. For instance, tellers can do things like "cashing checks for exact amounts down to the penny, dividing deposits between accounts and giving withdrawals smaller than $20."
It's a chance for Bank of America to provide even more convenience to customers and also to create new jobs. English-speaking and Spanish-speaking tellers will be available to customers.
Keep Your Account Secure
With any of these technologies, bank account holders need to be aware of the security risks associated with online, mobile or remote banking. According to an expert at DSL.com, you should never access your account from a public computer and always sign out after you finish your online banking tasks.
Ryan Harris is a freelance copywriter and marketing consultant who works with small businesses and start-ups to design effective social media strategies to jumpstart brand growth. He has worked extensively with both B2B and B2C clients on marketing strategy with a focus on product introduction. He spends his free time reading tech news and supporting his favorite sports teams.
The following two tabs change content below.
Sean Bryant
Sean Bryant created OneSmartDollar.com in 2011 to help pass along his knowledge of finance and economics to others. After graduating from the University of Iowa with a degree in economics he worked as a construction superintendent before jumping into the world of finance. Sean has worked on the trade desk for a commodities brokerage firm, he was a project manager for an investment research company and was a CDO analyst at a big bank. That being said he brings a good understanding of the finance field to the One Smart Dollar community. When not working Sean and he wife are avid world travelers. He enjoys spending time with his daughter Colette and dog Charlie.
Latest posts by Sean Bryant (see all)