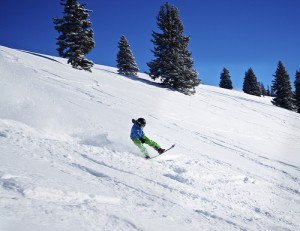 Today is the Super Bowl and even though the Chicago Bears are not involved I am still looking forward to watching the game.  We are having some friends over and using some of the Super Bowl recipes from my wife's article this week.  I am going to be cheering for the 49ers since they're an NFC team however I would be happy with either team winning.
This week was pretty awesome here in Colorado as we got hammered with snow up in the mountains.  My buddy Andrew from Money Crashers and I decided to take advantage and head up to do some skiing/snowboarding.  I spent most of the day on the backside of Vail Resort in the back bowls.  There was literally powder up to my thighs in some sections.  I think of myself as being a pretty good snowboarder but this was quite the challenge.  At one point it was snowing so hard that I could barely see in front of me and I accidentally went off a ~10 foot drop-off. Below I added a video that was up on the Vail Resorts Facebook page.
For those of you who nominated your favorite personal finance blog of 2012 I want to thank you.  I am compiling all of the nominees and voting will begin this week.  For all the bloggers this will be your chance to get your readers to help you win some awesome prizes. If you are the winner you will also be given $100 to giveaway on your own website.
Now let's get on to some of my favorite personal finance articles from this past week.
10 Mental Barriers to Paying off Debt
Make Extra Money: Start a Blog or Write for Others – Work Save Live
What to do Once Debt is Paid Off – Life and My Finances
How to Build Kick-Ass Credit Score – Street Smart Finance
Tips to Finding the Home of Your Dreams – Modest Money
5 Easy Ways to Save Money Lost Due to the Payroll Tax Increase – Frugal Rules
Financial Advisors 101: Get The Inside Scoop – Canadian Budget Binder
The Learning is in the Doing – We Only Do This Once
The Reality of Family Debt and How to Manage Your Way Out – Debt RoundUp
The Benefits of Charitable Investing – The Family Finances
A Trip to London on a Budget – Money Bulldog
Trading Currencies as an Additional Source of Income – Reach Financial Independence
Reformed Spenders Adjust to Life on a Budget – Eyes on the Dollar
Frugality Gone Wrong: The Real Cost of Owning a BMW – The Happy Homeowner
Giving to Charity on a Budget – Mo Money Mo House
How to Save Money When There is Nothing Left After Payday – Money Smart Guides
Five Key Elements to Increasing Your Income – My Alternate Life
The Mans Guide to Hosting a Winning Super Bowl Party – Fearless Men
My Dog Pablo: The Freeloading Genius – Club Thrifty
The following two tabs change content below.
Sean Bryant
Sean Bryant created OneSmartDollar.com in 2011 to help pass along his knowledge of finance and economics to others. After graduating from the University of Iowa with a degree in economics he worked as a construction superintendent before jumping into the world of finance. Sean has worked on the trade desk for a commodities brokerage firm, he was a project manager for an investment research company and was a CDO analyst at a big bank. That being said he brings a good understanding of the finance field to the One Smart Dollar community. When not working Sean and he wife are avid world travelers. He enjoys spending time with his daughter Colette and dog Charlie.
Latest posts by Sean Bryant (see all)