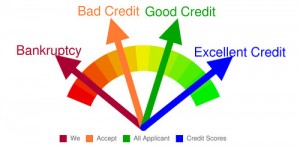 When you are a teenager, and into your twenties, you will probably give little thought to your credit rating. You are likely to live with parents or in a rented property and have very few costs other than day-to-day bills and expenses. There comes a point however, when you need to think about the bigger picture, and the damage that you may have done by taking out credit in your younger years.
If you are thinking about getting a mortgage or financing a car you could get a nasty surprise if you are unaware of your credit rating. You can find information on credit scores online and by following this link you can check your own rating. You can always do things to help your credit rating and improve your financial situation, and some tips on this are listed here:
Stop applying for credit
Every time you apply for credit it is logged. If you apply too many times in a short space of time you can be penalized and your rating will suffer. If you have credit problems, take a break from applying for anything for at least 6 months, then check back.

Don't default
If you are likely to have trouble making the minimum repayments on any arrangements you have be sure to contact the lender in advance. Defaults will harm your credit file a lot more than changing your repayment terms, so renegotiating is always the best option. Two or more charges on a bank account or missed payments on debts will stick with you for at least a year so are best avoided.
If you have no credit, get some
It is a common misconception that those who have never borrowed will have the best credit score, but this is untrue. Lenders need proof that you can make repayments and stick to an arrangement, so getting a cell phone with a contract or a credit card can actually help your chances of approval for things like mortgages down the line. Just make sure you don't miss any payments, and where possible, pay the balance each month.
Credit ratings require work if you want to be eligible for the best rates and deals on mortgages, loans and other forms of credit. There are a lot more things that you can do to help this process along and, combined with the above, taking action to repair any damage to your credit rating could be essential to your financial future.
Image Credit
The following two tabs change content below.
Sean Bryant
Sean Bryant created OneSmartDollar.com in 2011 to help pass along his knowledge of finance and economics to others. After graduating from the University of Iowa with a degree in economics he worked as a construction superintendent before jumping into the world of finance. Sean has worked on the trade desk for a commodities brokerage firm, he was a project manager for an investment research company and was a CDO analyst at a big bank. That being said he brings a good understanding of the finance field to the One Smart Dollar community. When not working Sean and his wife are avid world travelers. He enjoys spending time with his two kids and dog Charlie.
Latest posts by Sean Bryant (see all)