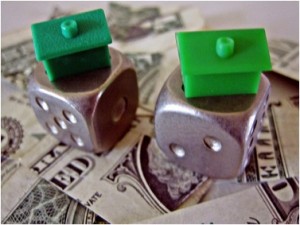 If you're a first-time buyer, the idea of picking a mortgage can be daunting to say the least. With many different types offered, alongside some pretty scary looking numbers, you may not have a clue where to start.
Never fear, because things are much simpler than they may seem. Once the jargon has been explained and the different types lay bare, it's easy to choose the right mortgage for you.
Take your Pick
There are a few basic types of mortgage which most lenders will offer. Each has their various positives and drawbacks, so it's important to choose one which fits your lifestyle.
The fixed rate mortgage means your interest rate is set for an agreed period of time, usually 15 or 30 years. This means you have the security of knowing what you'll be paying each month, but cannot take advantage of any falling rates unless you refinance.
The adjustable rate mortgage means that you may start with a low interest rate but as suggested by the name this could increase. This may be a useful mortgage for those who intend to stay in a property for a short time.
Here in the United States there are Government Mortgage options too. The Federal Housing Administration (FHA) and the Department of Veterans Affairs (VA) offer mortgage programs in all states and these include both fixed-rate and adjustable-rate mortgages. They have flexible qualification guidelines for eligible borrowers. These mortgages are great if you have a limited amount to use for a down payment.
The UK government offer something similar to help people get on the property ladder. This is called Help to Buy and involves an equity loan from the government to help reduce the amount of the mortgage to 75% of the house price. This is being hotly debated in the houses of parliament at the moment as the full details have not been released.
So how do you get a mortgage?
If you're a first time buyer or haven't moved in a while there are a few guidelines that you would need to know about.
Once you've decided which mortgage type is for you, there are a few things you'll need in order to qualify. Perhaps most importantly is a down payment, depending on the type of mortgage you are getting the minimum is often around 10% now that banks are a little tighter on their regulations. However, the larger your down payment can be, the better.
Your credit history is very important when applying for a mortgage as the lender will want to check how reliable you've been with money in the past. The better your credit history, the better your interest rate will be.
The lenders will also check whether you can afford to pay back this mortgage. To do this, they'll check the amount of money each person taking on the mortgage makes at their job, along with checking any other financial commitments that you may have.
Once you have the mortgage arranged you can find the right home for you based on how much you can comfortably afford.
Some people find the home first and then arrange the mortgage however this could lead to disappointment if you cannot arrange the mortgage.
Lenders may give you a 'mortgage in principle' before you've found the house, but you won't get the money until you've found the home.
The following two tabs change content below.
Sean Bryant
Sean Bryant created OneSmartDollar.com in 2011 to help pass along his knowledge of finance and economics to others. After graduating from the University of Iowa with a degree in economics he worked as a construction superintendent before jumping into the world of finance. Sean has worked on the trade desk for a commodities brokerage firm, he was a project manager for an investment research company and was a CDO analyst at a big bank. That being said he brings a good understanding of the finance field to the One Smart Dollar community. When not working Sean and he wife are avid world travelers. He enjoys spending time with his daughter Colette and dog Charlie.
Latest posts by Sean Bryant (see all)