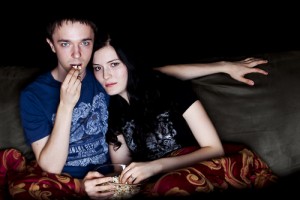 We all know the drill, when looking to tighten our belts and save money the first things to go are the eating out and the entertainment portions of the budget. I had always thought entertaining at home was a cheaper alternative to going out, but after my recent birthday party I realized I was wrong. Entertaining at home is cheaper than going out, but only in certain instances.
Movie Theater vs. Movie Night In
This is probably the most obvious example of how entertaining at home is cheaper than going out-movies are so expensive! Add a trip to the concession stand and it is no contest on how much money you can save. For my boyfriend and myself we save about $25 each time we watch a movie at home. Viewing over Netflix or Hulu is negligible when you break the cost down per day or per view, and a box of popcorn is only $3.00 from the local grocery store.
Having friends over for a movie night is often a lot more fun than going out to the movies, because you are in your own home, there is a lot more conversation and playful banter than out at a public theater. Winner: Movie Night In
Restaurant vs. Having Friends for Dinner
I'm in my mid-twenties; I don't really frequent uber-expensive restaurants. Yet, when I have people over I feel compelled to buy wine and asparagus-the works. And I cook dessert, which I'd never have at a restaurant! The inner Martha in me comes out and I feel the need to put on a show, which wreaks havoc on my budget.
Having people over for dinner usually costs about $25-$30 bucks for four people, unless we cook something cheap like spaghetti. If we went to a decently priced restaurant, we'd probably spend that much, so this is negligible to me. Having people over for dinner really only makes financial sense if you do a potluck where everyone brings something instead of "hosting" others.
Having a legitimate "dinner party" (more than four people) isn't even economical. That's just showing off, and then you really begin to rack up a bill. Winner: Neither
Event Hall Party vs. Hosting at Home
For my birthday I had the option of either hosting the get-together at my house, or at a local restaurant. Even though the "party room" at the restaurant wouldn't have cost anything, I didn't want to force my friends to pay for an expensive night out with dinner and drinks. By opting to have the event at my house however, I spent over $250 for food, the cake, the party decorations (again, the Martha), and alcohol. I'm still slowly drinking the leftover alcohol and bottled water. I don't mind the expense so much since it was a fabulous time, but aside from what I spent on the event itself, I also spent a lot of my time on house clean-up before and after. If I'd had the event at an outside venue, I could have saved myself this trouble.
In my opinion, the event hall wins this one, unless you have to pay for use of the venue. Winner: Event Hall
Do disagree and think entertaining at home is always the cheaper option? What are some ways you entertain at home on the cheap?
The following two tabs change content below.
Lauren Bowling
Lauren Bee is a freelance writer and social media specialist based in Atlanta, Georgia. When not writing for One Smart Dollar, she is hard at work blogging over at
L Bee and the Money Tree
. Lauren enjoys editing, red wine, karaoke and the color pink.
Latest posts by Lauren Bowling (see all)