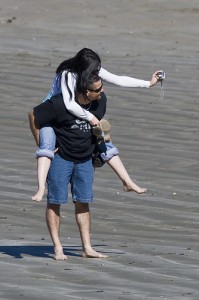 Believe it or not, gentlemen, the ladies in your life really don't need an expensive piece of jewelry from you for Christmas. In fact, you can spend very little and still melt her heart.
But, you need to remember that there is a difference between spending very little and putting in very little effort. Finding a memorable and sweet gift is all about knowing what your wife or girlfriend will appreciate.
Romantic and Inexpensive Gifts for Her
Frame a Photo of you Together
Find her favorite photo of the two of you (and that does NOT mean the picture where you're giving her rabbit ears) and put it in a beautiful frame. For just a little more money, you can get a plain frame engraved at a store like Things Remembered. She can show it off at work or put it up at home and think of her romantic guy.
Take Her on a "History of Us" Tour
If you're still living in the town where you met, why not talk a little walk into memory lane by visiting some of the places you went on your first few dates. She'll love the reminders of your first meeting and first kiss.
Get Her the Toy She Always Wanted
We all have a tale of Christmas disappointments past. For me, it was the Snoopy Sno-Cone machine. You probably know what toy she wished she'd gotten when she was 8 years old. Make that dream come true now. In most cases, the vintage toys from the 70s and 80s will be less than $30 now, and between Amazon and eBay, the toy she wanted will be fairly easy to find.
Scope Etsy for Handmade Jewelry
The artist marketplace at Etsy.com has an incredible array of beautiful, quirky, and personalized gifts. Consider getting an upcycled piece of jewelry that incorporates a map of your hometown, a symbol that's meaningful to your wife, or even her initials. The possibilities are endless—and the prices are very reasonable.
Make a Mix CD
You don't have to be John Cusack in an 80s film to make this work. The website bighugelabs.com allows you to personalize either a CD or a DVD. Just put a blank disk into your computer, and you can burn your project onto it. Whether you go nostalgic, romantic, silly, or sincere, she'll love that you came up with this for her.
A Dinner Basket
This is especially appreciated if your wife or girlfriend is the one who usually cooks. Give her a basket of all the things you will need to make a romantic dinner. Even if you are not gifted in the kitchen, you can throw together a nice spaghetti dinner—you just need noodles, a loaf of crusty bread, and a jar of marinara sauce. Round out the basket with a bottle of wine and a couple of candles. The best part will be when you tell her you'll handle all the cooking and the dishes.
The Bottom Line
It doesn't take a great deal of money to delight your sweetheart this Christmas. Just be willing to pay attention to the things she cares about most—and find a way to include them in your gift-giving.
The following two tabs change content below.
Emily Guy Birken
Emily Guy Birken is a freelance writer and stay-at-home mom who is passionate about personal finance. She lives in Lafayette, Indiana with her mechanical engineer husband and her toddler son. She blogs about parenting at
The SAHMnambulist
and about the funny side of money at
Live Like a Mensch
.
Latest posts by Emily Guy Birken (see all)