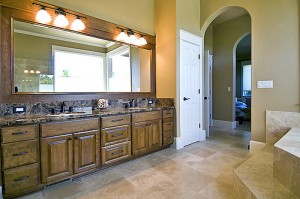 Whether you want to increase your home's footprint to make room for your expanding family, or you want to undo the ugliness perpetrated on your home by a previous owner, planning a major home makeover can be an exciting prospect. Unfortunately, that excitement can often blind homeowners to the enormous price tag for a big home renovation.
So, before you become drunk with the prospect of having a Pinterest-worthy new sun room, here are the financial aspects of a home makeover that you need to consider:
Is renovation the right move?
If your plans for changing your home will significantly alter the basic structure of the house, you might want to ask yourself if you should instead simply relocate to a bigger one. According to the American Homeowner's Foundation, moving will generally cost you about 8%-10% of the value of your home. So if your remodeling dreams will be more expensive than that, you might either want to scale back your plans or think about finding a new home. It's unlikely that putting that kind of money into a home remodel will translate into an equivalent increase in value. Think about getting the best app for punch lists so that you can visualize all the items that need to be done before you commit to the remodeling procedure.
Estimate—and add a cushion
For some reason, the finances of home makeover always seem to go more like The Money Pit than This Old House. So no matter what you estimate, it's a good idea to add extra money to your prospective total in case of unforeseen circumstances. According to This Old House.com, you should add a different cushion amount depending on whether you're using a contractor or doing the work yourself:
"If you're hiring a contractor, start with a firm bid, broken down into labor and materials. Then add on 10 percent for surprises. On work you'll do yourself, compile a detailed materials list with quantities, costs, and an accurate total. Include permit fees and equipment rental. Then add a cushion of 20 to 30 percent to be safe."
Will you need to borrow money?
After you've recovered from the sticker shock of that estimate, you'll have to determine how you will go about paying for this remodel. If you have enough money set aside already, then you're in great shape. Most people, however, will have to finance their project. There are several options for financing:
A home equity loan or line of credit – One of the big benefits of this method of borrowing against your home's equity is that you can use it as you need it, meaning you can pay for the project in smaller increments over time.
A cash-out refinance – This option could work very well for those who have substantial equity in their home and will be improving their interest rate through the refinance.
A second mortgage – This is basically like a mini-mortgage, and accesses your equity in order to give you a lump sum that you pay back over time. Since transaction costs tend to be lower than with a refinance, this can be an attractive option.
The Bottom Line
Making changes to your home can be expensive and stressful. It pays to make certain you know all of your options before you start taking down walls. You (and your spouse) will be glad you did.
The following two tabs change content below.
Emily Guy Birken
Emily Guy Birken is a freelance writer and stay-at-home mom who is passionate about personal finance. She lives in Lafayette, Indiana with her mechanical engineer husband and her toddler son. She blogs about parenting at
The SAHMnambulist
and about the funny side of money at
Live Like a Mensch
.
Latest posts by Emily Guy Birken (see all)