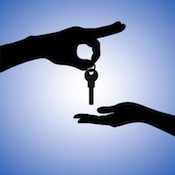 Shopping for a new home is one of the most exciting projects you and your family can undertake. With every house you tour, you find yourself imagining what life would be like if that were your new home. Unfortunately, the excitement you feel while looking for your next home can lead you to make some major blunders that could cost you money, time, and heartache. If you're in the market for a house, make sure you don't commit any of these four home buying blunders:
Not Getting your Own Agent
When you pass through neighborhoods with houses for sale, most of the for sale signs include the smiling portrait of the seller's real estate agent with an admonition to "Call Kristy!" if you want to look at the house. But using the seller's realtor to look at homes is a major mistake. The seller's agent has been hired by the person selling the house, so that means the agent is hoping to get the highest price possible for their seller.
While it is not a conflict of interest for an agent to serve as both seller's and buyer's realtor—and in fact, many agents would love to collect the double commission for doing just that—it simply doesn't make sense for the buyer to use the same agent. For example, you want to be able to tell your agent what your absolute price limit is, without the number being relayed to the seller. Also, you want someone who is not trying to sell the house to you to be able to give you the skinny on how it fits within the local price range, what kind of maintenance issues it has, etc. While all of this is information you can get for yourself, it's much easier and safer for your wallet to simply have your own agent.
Falling in Love
When my husband and I moved to Lafayette, Indiana two years ago, we were in contract for a cute little bungalow that we had both really fallen in love with. But the house and both garages needed new roofs, and the seller was refusing to take care of the problem on the garages. Even though we were in a bit of a time crunch—our temporary housing was only good for a few months, and we had a baby on the way—we decided after some contentious back-and-forth with the sellers that we would just have to find a new house.
In fact, we probably waited a little longer than we should have to make that decision. But we had already imagined ourselves living in the bungalow and daydreamed about paint colors, decorations, and gardens there. The sellers had been hoping to take advantage of our emotional attachment to the house. But the most important tool that a buyer has in negotiations is the fact that he can walk away at any time. Don't forget that, no matter how perfect the house may seem.
Neglecting to ask for Inspection and Mortgage Finance Contingencies
When you're ready to make an offer on the house, it's wise to ask for these two contingencies. The inspection contingency means that you can back out of the deal if the professional home inspector finds a major issue that needs to be dealt with—like the faulty roofs on the house and garages our inspector found. You want to be able to ask for mitigation of the problem, or allow yourself the opportunity to renegotiate or even drop the offer altogether.
A mortgage finance contingency is helpful if your prospective home does not appraise for the price that you offered. This contingency will allow you to renegotiate the price or cancel the sale and potentially get back your deposit.
Not Having a Reserve Fund
There is more to saving up for a house than just the down payment and closing costs. You also need to make sure you have money set aside in an emergency fund for when the water heater breaks or the dishwasher floods the kitchen—not to mention the money you will need to do the fun stuff that makes the house yours, like paint, furnishings, curtains, etc. Having to put every last penny you have in the bank's hands on your closing date means that you will be in a tough financial situation for months or years after you move in.
The following two tabs change content below.
Emily Guy Birken
Emily Guy Birken is a freelance writer and stay-at-home mom who is passionate about personal finance. She lives in Lafayette, Indiana with her mechanical engineer husband and her toddler son. She blogs about parenting at
The SAHMnambulist
and about the funny side of money at
Live Like a Mensch
.
Latest posts by Emily Guy Birken (see all)