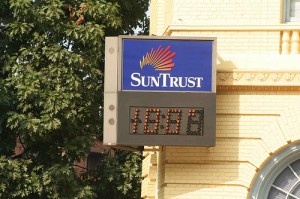 Like most people, you probably look forward to the summer. This is the perfect time to hit the beach, spend the day at an amusement park and enjoy other family fun activities. But while the summer is an open invitation for fun, it's also a time for higher energy bills.
Some families see a significant jump in their electricity bills between the months of June and August. Temperatures tend to skyrocket during these three months, and maintaining a comfortable home temperature often requires keeping the AC on full blast. There are, however, ways to survive the summer minus without the shock when you receive your utility bill.
Here are five tips for reducing energy costs during the summer months.
Use LED lights throughout your house. 
Incandescent lightbulbs are cheap, and because of this, they're often used in households. But if you're interested in reducing your energy cost during the summer, there is a better way to light your house. 
Make the switch to LED lights and you can reduce your energy costs by as much as 20%. These lightbulbs do costs more. However, they release about 80% less heat than incandescent bulbs, which helps your home maintain a cooler temperature As a result, your air conditioning doesn't need to work as hard.

Change your energy provider.
If you can choose between multiple energy providers in your area, shop around and see if you can get a lower rate. Texas residents can visit TexasElectricityProviders.com to preview a list of energy providers by region and request a quote. With a lower rate, you can use the same level of energy, but spend less out-of-pocket. The extra cash can help increase your savings or go toward summer activities for the family.
Keep the blinds and drapes closed.
The less your air conditioning has to work, the better. Opening the drapes and blinds lets sunlight enter your home. Unfortunately, hot sun rays can also raise the temperature inside and increase your energy costs. Not to suggest keeping your blinds closed the entire summer, but on super hot days, it pays to close your blinds and curtains.
Use smaller kitchen appliances. 
Turning on your large oven will raise the temperature inside your home, thus causing your air conditioning to run continuously. Rather than use the oven or stovetop for every meal, prepare meals in smaller appliances, such as the toaster oven, the crock pot, a steamer or the microwave. Go a step further and turn on your outdoor grill.
Close certain vents. 
If certain rooms in your home stay empty, such as the living room, the dining room or spare bedrooms, close the air returns in these rooms. This forces air to flow to other areas of the house. Thus, you can keep your main rooms cool without lowering your temperature.
The summer heat can be a beast, but fortunately, you can stay cool without going broke. Be conscious of how you use your electricity and you can avoid high electricity bills.
The following two tabs change content below.
Sean Bryant
Sean Bryant created OneSmartDollar.com in 2011 to help pass along his knowledge of finance and economics to others. After graduating from the University of Iowa with a degree in economics he worked as a construction superintendent before jumping into the world of finance. Sean has worked on the trade desk for a commodities brokerage firm, he was a project manager for an investment research company and was a CDO analyst at a big bank. That being said he brings a good understanding of the finance field to the One Smart Dollar community. When not working Sean and he wife are avid world travelers. He enjoys spending time with his daughter Colette and dog Charlie.
Latest posts by Sean Bryant (see all)