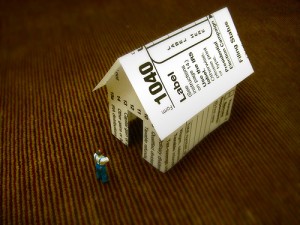 It's tax filing season again—that time of year when we all go tearing through our homes trying to find the right forms, the right receipts and the right documents that will prove how much money we earned, spent and for how much of it we are responsible and accountable. The forms are the worst because it always seems like we have the wrong ones! Here are the most important tax forms that you should make sure you've got on hand before you sit down to start calculating.
Your W-2 Form
The W-2 is the starting document for every tax process. If you worked for an employer as an employee during the last year you should have received a W-2 and if you didn't get yours by the beginning of February, you need to contact your employer.
Your 1099 Form
If you worked as an independent contractor for someone you are going to be issued a 1099. Make sure you keep track of who you work for throughout the year so that you know from who to expect these documents come tax time. Like your W-2, if you don't get them delivered on time, you're going to have to go hunt them down. It's better to spend the time now, though, than try to file a correction later.
The W-4 Form
This is the form you file with your employer that tells him how much money to withhold for tax purposes throughout the year. You need to file a new one of these every year and can usually get them from your company's HR office. If they don't have them, you can also download the form online and turn it in yourself.
The W-9 Form
The W-9 is sort of like the W-4 for the self employed. You fill out your tax information the same as you would for the W-4. Then, if you earn more than a certain amount with an employer, they use your W-9 information to fill out your 1099.
The 1040 Form
This is the starting point for all taxes, no matter what kind of work you did throughout the year. There are many different types of 1040s. If you only worked for one employer, had no other income and made no major purchases or had any major expenses you can probably get by with a 1040EZ form. The 1040A is for people with slightly more complicated income/expenses than those who qualify for the 1040EZ but whose situation is still relatively simple to sort out. Everybody else will use the standard 1040 form.
You can download each of these forms online for free. If you don't have a computer, you can visit your local library. Some will have the forms already printed out (the IRS no longer sends preprinted forms to libraries) for you but most will simply help you log into a computer and print the forms out there.
From here the forms vary depending upon your income, expenses, credits, etc. As you fill out the 1040 it will tell you which other forms are also required for processing your taxes. All of those forms are also available online.
The following two tabs change content below.
Sean Bryant
Sean Bryant created OneSmartDollar.com in 2011 to help pass along his knowledge of finance and economics to others. After graduating from the University of Iowa with a degree in economics he worked as a construction superintendent before jumping into the world of finance. Sean has worked on the trade desk for a commodities brokerage firm, he was a project manager for an investment research company and was a CDO analyst at a big bank. That being said he brings a good understanding of the finance field to the One Smart Dollar community. When not working Sean and he wife are avid world travelers. He enjoys spending time with his daughter Colette and dog Charlie.
Latest posts by Sean Bryant (see all)