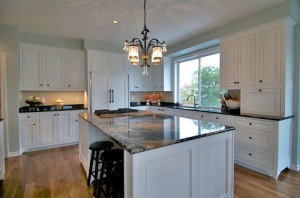 Is your home looking a bit drab and you want to breathe some new life into it? Have things started falling apart just a tad and in serious need of updating? Are you thinking about selling your home somewhere down the line and hope to increase its value by making some improvements? Regardless of your motivation, you probably have discovered remodeling isn't cheap. Most people can't simply dip into their bank accounts and cut a check to the contractors. So, one of the first steps in your little journey is finding a way to fund your project.
First Things First….
Before you go off applying for loans, it is crucial you give some serious thought to crafting your home remodeling budget. Put together a nice little summation of what everything is going to cost, and where this money is going. Depending on the avenue through which you get your loan, this may be a necessary part of the approval process. If you are using contractors, get a firm bid. If you are doing the work yourself, put together a list of materials and their costs, as well as the costs for equipment rental and anything else you need to purchase for your DIY efforts.  Now that you have an idea of what this whole shebang is going to cost you. And no matter who will be doing the work, you might want to tack on about 10 percent to cover 'surprises.'  And onto your options….
Refinancing with Higher Principal
If you have built up a good amount of equity in your home, and the interest rates are currently lower than they were when the loan originated, refinancing and adding on the renovation costs to the principal is one option.  This loan can also be for 30 years, like a typical mortgage, though you do have an option to choose a shorter term.  And, don't forget you will need to pay closing costs, just like your first mortgage.
Reverse Mortgage
A reverse mortgage is another option if you are over 62, and your mortgage is paid off, or you owe very little on it. Unlike other forms of funding, where your credit, assets,etc..are primary factors, the main factor is the amount of equity you have built up in your home. Though, the lender will take a look at your income to determine whether you can meet financial obligations such as property taxes—if there is any concern, some of the money lent will be set aside for such purposes. Reverse mortgages do not need to be paid back until you leave the house.
If you are planning on leaving your home in the next few years, this may not be the best option for funding your remodel; nor is it ideal if you plan on leaving the home to someone as the bank will typically sell the home to pay back what it lent you.
It is also important to make sure that, whichever lender you choose to work with, they understand programs like the HECM (the FHA approved mortgage for seniors 62+) and aren't just promising money for nothing. In a recent article for the Reverse Review, the CEO of AAG Reverse Mortgage said "We all know the facts cut in our favor and how useful a tool the HECM can be, so I think it's hugely important to have as many studies conducted as possible on the impact of the product." A quick visit to the
American Advisor's Group
website confirms that the company works with a variety of HECM loans.
There is a lot of 'controversy' surrounding these types of loans, primarily because of shady lenders who engage in unscrupulous practices. Make sure you check every potential lender through the Better Business Bureau and sites like Angie's List and your local Chamber of Commerce. You want to make sure you're working with someone upstanding, not someone who has their eye on your house.
Home Equity Loan
A home equity loan is one form of a second mortgage. It allows you to borrow against the equity you have built up in your home over the years. Your original mortgage remains as it was, and you will be making a second payment to cover the amount borrowed from your equity. This option may come with a higher interest rate than a refinance, but closing costs are typically less.
Home Equity Line of Credit
A home equity line of credit is the other type of 'second mortgage.' Unlike a loan however, where you receive a lump sum, a line of credit operates similar to a credit card. You can use the money when you need it, and as you pay your balance down, the funds become available again to use over and over.  With this method, you will only use what you truly need, unlike a loan, which may end up being more than the renovation actually cost—provided you are disciplined and put the money back rather than spend it on something else, this is not too much of a problem. The downside is, the repayment terms are usually shorter—about eight to 10 years, and the rate is variable, meaning the payment you have now could either decrease (which is good), or increase (which is not so good.) over the life of the repayment terms.
The following two tabs change content below.
Sean Bryant
Sean Bryant created OneSmartDollar.com in 2011 to help pass along his knowledge of finance and economics to others. After graduating from the University of Iowa with a degree in economics he worked as a construction superintendent before jumping into the world of finance. Sean has worked on the trade desk for a commodities brokerage firm, he was a project manager for an investment research company and was a CDO analyst at a big bank. That being said he brings a good understanding of the finance field to the One Smart Dollar community. When not working Sean and he wife are avid world travelers. He enjoys spending time with his daughter Colette and dog Charlie.
Latest posts by Sean Bryant (see all)