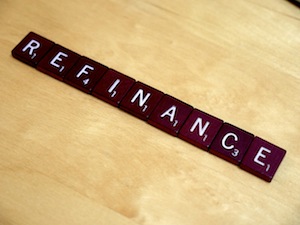 No one likes taking out a loan, but it is often an inevitable part of life. The only way to buy your dream home is by taking a mortgage and then paying it off gradually until you own your home outright. But even if you work hard and you save money, the economy can be a cruel monster. Interest rates may go up and down, and those shifts could impact your mortgage and your monthly loan payments.
Until late 2013, there was little you could do except grit your teeth and bear the pinch of a fickle economic market. Now, the tides have turned. With several national and international factors coming into play, it seems like every homeowner's mortgage fantasy could be coming true. You may be able to pick and choose from lenders offering interest rates averaging the lowest in this century. But along with the good comes the bad. It is safe to say that you can find a lender offering an affordable mortgage rate, but what if you are already stuck in with a high-interest mortgage loan? Can you refinance? And what should you do to make it profitable for you in the end?
For Homeowners Planning to Refinance Their Loans in 2014
While interest rates are low now, MSN points out that by late 2014, rates may well start to see a rise. The market is still great for people planning to refinance their loans. However, before you actually jump in with both feet, you should know that there are critical factors to consider. Here are a few essential facts that Investopedia feels you should be aware of:
Right Time to Refinance
Credit Sesame states that there is no one perfect time to refinance. As with any financial deal, there are several factors you have to consider. Are you planning on staying in the house or are you planning to sell it? This is an important factor, since selling the house means that you do not have to worry about the mortgage or refinancing. In the same way, if you have already paid more than two-thirds of your mortgage, it's not a good idea to refinance your loans. This is because you already own that much equity in your home, and refinancing will negate all this and extend your loan time period again. The best time to refinance would be if you have a new mortgage with a variable interest rate and you plan to stay for at least a few more years. When refinancing, you can choose to move to a new lender or renegotiate your mortgage at a lower interest rate (fixed or variable) with your existing lender.
Overall Cost
This is very important, since closing a mortgage or shifting to a new lender means paying fees that can eat up any savings you are expecting from the lower interest rate. For example, say you have approximately 20 years left on your loan. Can you refinance the loan to a shorter period of 12 years? In this case, the actual interest rate and the shorter time period could mean that you are saving on the interest payments you make. However, refinancing the same loan with lower interest rates to more than 30-years could mean a loss of equity in your home. Lenders also hate losing customers, and they may tack on extra fees and charges that will be impossible to pay upfront. Other lenders may offer you no closing costs, but they will hike your interest rate to cover this cost. For example, your lender may offer a $200,000 refinance loan with zero closing costs but with an interest rate of 6.25 percent for 30 years, or he may offer you the same loan with 5.5 percent fixed interest rate with an upfront closing costs payment of $6,000. It's a far better idea to use the lower interest rate rather than to add it to your overall mortgage cost.
Check Twice and Think It Through
Any good refinancing option should serve to lower interest rates and lower monthly payments for the homeowner. However, as with any major financial transaction, there can be many complications that can trip you up. All states now have a Lemon Law in which you can return a car if you are dissatisfied with how it works or runs. It's no different with a mortgage refinance. If you are not happy with the terms, you can cancel the deal within three days of closing, provided you meet certain terms and conditions. Since refinancing your home is a huge decision, MSN recommends you first ascertain these terms and then take the time to actually decide about refinancing. Daily Finance recommends that you do as much research as possible into costs and interest rates as possible to ensure that you are getting the best deals.
The following two tabs change content below.
Sean Bryant
Sean Bryant created OneSmartDollar.com in 2011 to help pass along his knowledge of finance and economics to others. After graduating from the University of Iowa with a degree in economics he worked as a construction superintendent before jumping into the world of finance. Sean has worked on the trade desk for a commodities brokerage firm, he was a project manager for an investment research company and was a CDO analyst at a big bank. That being said he brings a good understanding of the finance field to the One Smart Dollar community. When not working Sean and his wife are avid world travelers. He enjoys spending time with his two kids and dog Charlie.
Latest posts by Sean Bryant (see all)