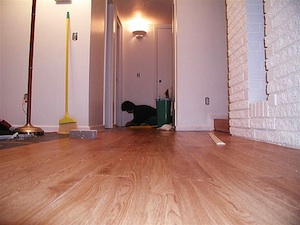 There are a great number of people that like to save money on DIY projects.  Rather than hire someone to do auto repair, home repair, or their taxes, they enjoy the challenge and like to save money by doing it themselves at home.  Usually you can save money, and if you enjoy the activity, you might as well have a productive hobby.  But there are times when it is simply not worth your while to take the time to do it yourself.
Before you get started in a project you have to make the decision of whether or not you want this to be a DIY project.  There are a few questions to ask before starting:
Will I enjoy the project?
Do I need something customized to fit my needs?
Will I be able to get it done quickly, or will it sit around unfinished for months or years?
Will it cost less than buying it or hiring someone to do it?
If you can answer enough "Yes" to three or more of the questions, then taking on the project yourself is probably the answer.  Ultimately it boils down to whether or not you will save money, and whether or not you will be able to get it done efficiently.
There are some projects that may seem cheaper to do it yourself, but they are simply too time consuming.   Have you established an hourly rate that you are worth?  For instance, if you can use your skills and freelance for $50 per hour, then you should use that number to calculate out the true cost of your project.  For instance, you want to re-tile your bathroom.  The materials cost $300, and you figure it will take you 5 hours ($250 worth of your time).  You get an estimate from a professional and they would charge $500.  In the end you would save $50 to hire someone to do it and use your time to earn more on the side.
You must also take into consideration the quality of the work.  Do you know how to do the project to code?  Are your skills as good as the contractor?  Will you get bored with the project and eventually hire someone to finish it anyways?  Will you have to buy new tools?  Would you rather just have someone come in and get it done so you can enjoy other things?   All are factors when considering whether or not to do it yourself.
We will all run into situations where we can either hire someone else to do it, or we can do it ourselves.  If you ignore your time investment, the cost is almost always cheaper.  If you have fun doing the project, then it is better to DIY.  If you do not enjoy it, put your skills to use elsewhere to earn more money, and then pay someone to do the job for you.  In the end, everyone wins.
The following two tabs change content below.
Scott Sery
Scott Sery is a native to Billings, Montana. Within an hour in nearly any direction he can be found fishing, hunting, backpacking, caving, and rock or ice climbing. With an extensive knowledge of the finance and insurance world, Scott loves to write personal finance articles. When not talking money, he enjoys passing on his knowledge of the back country, or how to live sustainably. You can learn more about Scott on his website
Sery Content Development
Latest posts by Scott Sery (see all)