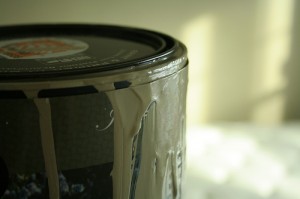 Like anything, houses wear out.  The interior becomes old and dated, sometimes it falls apart completely.  Regardless of how old the house is, there are always things that will need fixed and upgraded.  Whether you are trying to sell the house quickly, or just make it a more comfortable place to live, there are quite a few home upgrades that you can do to increase the value and give it a little extra dazzle.
Clean
Cleaning seems obvious, but as dirt accumulates most of us do not even realize it is there.  A good deep scrubbing, including professional carpet and window cleaning, can make any home look better.
De-clutter
Along the lines of cleaning is organizing.  Taking out the clutter in a house can not only make it feel bigger, but also fresher and more useful.  Adding simple storage bins or racks to the closets can streamline the morning routine.
Paint
Painting is one of the easiest ways to dramatically alter the appearance of any room in the house.  Best of all, it is cheap.  Good, high quality paint will run roughly $20/gallon.  Most rooms will require about 2 gallons.  Just make sure to take your time if you are painting it yourself, a sloppy job will do more harm than good.
Replace Cabinet Hardware
There are certain styles that make us wonder how they were popular in the first place.  Fortunately, many of them are easy to replace.  Such is the case with cabinet door handles and drawer pulls.  Pick out some at the home improvement store that are the same size, and within a matter of minutes and a few turns of a screwdriver the kitchen or bathroom will look completely different.
Replace Faucets/Toilet/Towel Racks
For even more of an impact in the bathroom, swap out the faucet or toilet.  Most people will have to call a plumber for this job, so it might not fall into the "cheap" upgrade category anymore.  But the difference it makes in the bathroom will be substantial.  For a little easier job, just do the towel racks.
Re-Grout Tile
After years of foot traffic, the grout between the tiles will get covered in grime.  Sometimes it can be cleaned off, but often the homeowner will need to gouge it out and replace it.  There are some special tools needed, but the process is not too hard or expensive.
Window Treatments
Replacing the dated, and often smelly or damaged, blinds and drapes can change the look of the room instantly.  Most of the time there are no tools required and the process can be done very quickly.  For the best look, pay extra for high quality, it shows.
There are many more little things that a person can do to quickly and cheaply improve the look of their home.   All it takes is a little imagination, not too much skill as a handy man, and some elbow grease and any room can go from looking bland or out-dated, to being the new favorite room in the house.
The following two tabs change content below.
Scott Sery
Scott Sery is a native to Billings, Montana. Within an hour in nearly any direction he can be found fishing, hunting, backpacking, caving, and rock or ice climbing. With an extensive knowledge of the finance and insurance world, Scott loves to write personal finance articles. When not talking money, he enjoys passing on his knowledge of the back country, or how to live sustainably. You can learn more about Scott on his website
Sery Content Development
Latest posts by Scott Sery (see all)