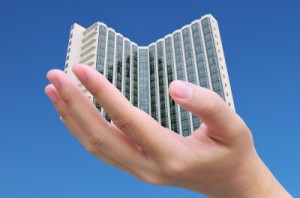 A diversified portfolio is one that will be better suited to weather financial storms.  Most people make sure to include some stocks and bonds.  Those who are a little better will include small cap, mid cap, large cap and international funds.  Something that many people leave out of their investment portfolio is real estate.  This is not owning physical property and collecting rent on it.  Nor is it owning your own home, those are completely separate parts of your financial strategy.  Investing in real estate often includes Real Estate Investment Trusts (REIT's) and mutual funds that hold them.
A REIT is a way for a corporation that invests in real estate to get some special tax breaks.  These are companies that own a lot of land, like a rental agency, and make a profit collecting rent or buying, fixing, and selling.  In order to qualify for REIT status they must distribute 90% of their profits back to the shareholders.  The designation will allow the company to lower their tax obligation.  What is important to know is that not all real estate companies are designated as REIT's.
Mutual funds are the most common way for individuals to invest.  Just like all mutual funds REIT funds or other real estate funds are made up a variety of stocks and bonds issued from various companies.  They are property management companies, land developers, real estate companies, and many others that make their money based on buying, selling, or renting the land.  Most of the time the companies are designated as REIT's because that is what will help them make the most of their companies and pay as little as possible in taxes.
REIT's themselves are confusing.  The whole process to become one is cumbersome, and most people have no idea how it even works.  That is not important to the investor.  Investing in REIT's has been made easy with mutual funds and ETF's.  Instead of needing to understand how each company and every REIT works, the investor just needs to trust a fund company, and put their money in that mutual fund.  In order to encourage people to invest in their mutual funds, many will simply call them Real Estate Funds.  People know and understand what real estate is, and even though the funds are technically REIT funds, it is easier to call them real estate funds.
Despite what you call them, REIT's make up an important part of a person's portfolio.  Real estate will behave differently than the rest of the market, so while everything else may be floundering, real estate can be exploding.  Likewise, it can take a huge hit, as seen with the housing market a few years ago.  Since it is a volatile piece of a portfolio, most experts recommend that it make up less than 10% of the portfolio.  Somewhere between 5 and 8% is common.  If your portfolio does not have any real estate in it, you might want to look at diversifying a little more.
Do any of you invest in REIT's?
The following two tabs change content below.
Scott Sery
Scott Sery is a native to Billings, Montana. Within an hour in nearly any direction he can be found fishing, hunting, backpacking, caving, and rock or ice climbing. With an extensive knowledge of the finance and insurance world, Scott loves to write personal finance articles. When not talking money, he enjoys passing on his knowledge of the back country, or how to live sustainably. You can learn more about Scott on his website
Sery Content Development
Latest posts by Scott Sery (see all)