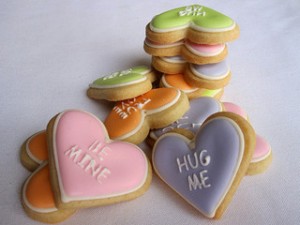 Valentine's Day is a day that most people have a love, hate relationship with. For most, it depends on if they have someone special to spend the day with. I have always been pretty neutral on the holiday. My wife and I don't usually buy each other gifts, but we will usually go out for a nice meal.
If you are looking to spend Valentine's Day with the person that you love, but don't want to spend a lot of money, here are a few romantic Valentine's Day ideas that won't bust your February budget.
5 Things To Do For Valentine's Day
Take a Walk
While on the surface it might seem pretty simple, a walk is sometimes the best way for couples to get good quality time together. You can forget about your day at work or about what you're going to fix for dinner and just focus on each other. Sounds pretty romantic doesn't it?
Fix dinner together
If spending money at a restaurant isn't something that you want to do, then you can bring the restaurant to your own home. Pick out your favorite recipe, open a bottle of wine and cook together. My wife and I don't cook dinner together very often, but it is something I really enjoy doing (hint, hint.) There is no television to watch, our daughter is already in bed, and it gives us a chance to spend some quality time together.
Go out for dessert
If dinner out is not in your budget, then why don't you just grab dessert. Here in Denver we have a little restaurant called D-Bar and it has the most amazing desserts. So this year forget about going out for a full meal and indulge yourself to a sweet after dinner treat together.
Homemade Valentine's Day cards
You want to know who makes out the most on Valentine's Day? The flower shops and greeting card companies. Instead of spending a lot of money on a Hallmark card try making your own.
Last year my wife and daughter made me a Valentine's Day card and it still sits on my desk today. It doesn't have to be elaborate. The most simple homemade Valentine's Day cards can have a lot of love and meaning behind them.
Revisit Old Memories
Since it's Valentine's Day, there is no need to turn on the television. Instead, pull out old photo albums or boot up the laptop and take a trip back memory lane. Look back on the times that you have spent together. You never know, it could lead to an entire night of talking, laughing and enjoying the good times.
Final Thought
Valentine's Day doesn't need to be a dreaded holiday. You can spend the day with the person that you love and not spend a lot of money.  Just give one of these romantic Valentine's Day ideas and you'll have a great night.
The following two tabs change content below.
Sean Bryant
Sean Bryant created OneSmartDollar.com in 2011 to help pass along his knowledge of finance and economics to others. After graduating from the University of Iowa with a degree in economics he worked as a construction superintendent before jumping into the world of finance. Sean has worked on the trade desk for a commodities brokerage firm, he was a project manager for an investment research company and was a CDO analyst at a big bank. That being said he brings a good understanding of the finance field to the One Smart Dollar community. When not working Sean and he wife are avid world travelers. He enjoys spending time with his daughter Colette and dog Charlie.
Latest posts by Sean Bryant (see all)