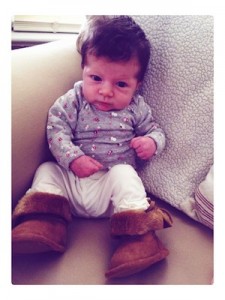 It's December 1 and it's going to be 60 degrees or above for for the next week here in Denver. Something is not right about that. I like to have snow on the ground when I go pick out a Christmas tree. The mountains have been making a ton of snow so I think I am going to head up for a day of snowboarding this week.
Our daughter will be one month old on Monday and everything is going awesome. We had a rough 36 hours earlier this week as she was having a small growth spurt where she wanted to eat just about every hour. I felt bad for my wife because she literally got no sleep for a day and a half.
How did everyone else's week go?
Here are some of the personal finance articles I enjoyed this week.
5 Frugal Ways to Start Investing – Frugal Rules
Save Thousands of Dollars With This One Little Rule – Frugal Habits
Every Career Path is Different, and That's Okay – Mo Money Mo Houses

Does It Make Sense to Pay Off the Mortgage Early? – Eyes on the Dollar
It's Your Blogging Journey, You Make the Rules – Modest Money
Perkstreet Financial Review – The Best Online Checking Account – Work Save Live
Massive Cash Back – Blue Cash Everyday and Preferred by American Express – Money Life & More
Budgeting With Mr. CBB Got Us Back on Track – Canadian Budget Binder
When Did You Realize That Money is Important? – The Family Finances
Tipping Etiquette a Touchy Subject for Patrons and Servers – Finance Fox
Evaluating Your Life as it Stands Today – Tackling Our Debt
Could America Go Back to Basics? – Money Smart Guides
What to Do if a Debt Collectors Asks for Money you Don't Owe? – Money Crashers
10 Habits of People Who Are Well Off – Pelican on Money
Being Evil to Save Money – Outlier Model
How to Reduce Payments on Your Debt – Reach Financial Independence
3 Online Shopping Tips to Get Better Deals – Debt Roundup
Why a Store Can be Cheaper is the Question – This is Common Cents
Employee Benefits: Do You Have the Option to Purchase Additional Vacation Days – Your PF Pro
Tips for Job Seekers – The "What Not to Do" Edition – Club Thrifty
Festively a Minimalist – Broke-Ass Mommy
Just a Beer – Many Uses for Beer (Other Than Drinking) – Add Vodka
The following two tabs change content below.
Sean Bryant
Sean Bryant created OneSmartDollar.com in 2011 to help pass along his knowledge of finance and economics to others. After graduating from the University of Iowa with a degree in economics he worked as a construction superintendent before jumping into the world of finance. Sean has worked on the trade desk for a commodities brokerage firm, he was a project manager for an investment research company and was a CDO analyst at a big bank. That being said he brings a good understanding of the finance field to the One Smart Dollar community. When not working Sean and his wife are avid world travelers. He enjoys spending time with his two kids and dog Charlie.
Latest posts by Sean Bryant (see all)