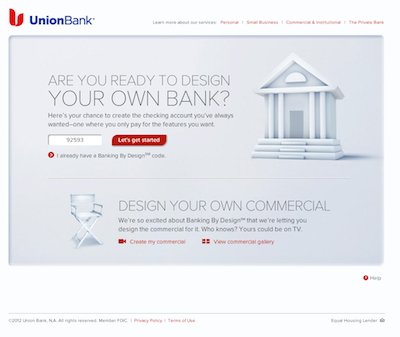 For those who are tired of banking fees, and the hidden costs often associated with maintaining a checking or savings account, there is a new method.  Banking By Design offers a way for customers to pick and choose which items they want in their account, and to leave off those they do not want.  So if you never write checks, why pay for them?  A new program (offered only in California at the moment) through Union Bank allows you to create your own customized banking experience.
There are many services that are free with other accounts that are offered at no extra charge through the Banking by Design program.  Getting your ATM/Debit card, online banking, and email or text alerts are offered free of charge, since people expect them.  The account comes with a $3 per month maintenance fee, but if you have your paycheck direct deposited (and that deposit is at least $250 per month) the fee is waived.  Other services will run somewhere between $1 and $3 per month (slightly more for a safe deposit box).  With these pay-for services you can have items that would normally cost quite a bit at other banks, for a small fee.  Items such as unlimited incoming wire transfers, and unlimited cashier's or travelers checks are just $1 per month (for each service).  There are even some services I have never seen before, such as for just $1 per month you can have priority customer service.  If you call in with questions, you get bumped to the front of the line.
Like all accounts though, there are some hidden fees.  For instance, if you pay $3 per month for use of out-of-network ATM's you only get 2 out-of-network fees waived.  After that, they are $2 each.  If you do not want online banking, you will automatically be enrolled to receive paper statements, for $1 per month.  Your unlimited check supply may only cost you $12 per year (you have to sign up for a 12 month commitment at $1 per month) but really who writes checks anymore?  I write about 2 per month, since I pay $20 for 500 checks I will come out far ahead by paying a one-time fee than an ongoing fee.  Do you really need to pay an ongoing $1 per month for expedited card delivery if you need a replacement ATM card?  Along with many of the other services, you will be charged each month even if the service is not used.
There are a lot of pros to Banking by Design though.  You get to pick the services you want, and not even have to worry about the ones you do not want.  You can always go back later and add other services.  The concept is unique and intriguing, but will you actually save money banking this way?  When you look around, there are quite a few banks that offer completely free checking and savings accounts.  Their "hidden" fees are only when you get overdrawn (something that I assume Union Bank charges for as well).  The Banking by Design concept is great, and has the possibility to take off.  But the charges and idea needs improved a little more before it is of much value to consumers with all the banking options out there.
The following two tabs change content below.
Scott Sery
Scott Sery is a native to Billings, Montana. Within an hour in nearly any direction he can be found fishing, hunting, backpacking, caving, and rock or ice climbing. With an extensive knowledge of the finance and insurance world, Scott loves to write personal finance articles. When not talking money, he enjoys passing on his knowledge of the back country, or how to live sustainably. You can learn more about Scott on his website
Sery Content Development
Latest posts by Scott Sery (see all)