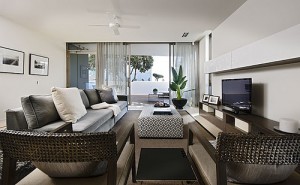 If you're thinking of updating your living room to something a little more aligned with your personal tastes or maybe just updating it to something a bit more modern, you have to start somewhere. Many people understand what they like, but they don't understand how to put what they like together into something that looks nice. There is also the problem of being able to edit yourself. When you like everything you're looking at, what to take away can seem like an impossible problem. Here are a few simple tips to help you put together a room that suits you and doesn't look too cluttered.
Where to Start
The best thing to do is start with something you already have that you like. Most people will keep a large, expensive piece unless they want to begin from scratch. Either way, you want to find something like a sofa or an entertainment center that really fits your style. You can work around that as the centerpiece of your room. With it in mind as your central piece, look for deals from shops that focus on interior design.
When to Start
Looking for deals in the mall or anywhere you like to shop is best to do off season. You want to search for your items either in the fall or in the winter between Christmas and New Year's Eve. The holiday season brings the best furniture and decor deals. You'll be able to find treasures for far less than the usual prices. Try watching different stores to find the best deals and work around a timetable. Remember, you don't have to buy everything at once.

Pops of Color
If your major piece of furniture is black or brown, you should think about adding a splash or pop of color. Most people do this in a few ways. Throw pillows, rugs, and accent walls are all excellent for adding color and dimension in a room. Start with your largest piece and then work down to smaller ones for color.
If your room is an odd size with one longer wall or deep walls, using a bright, bold color on one wall will open the room up and make the space look better organized. Accent walls that are darker will add depth to a room, while brighter or patterned ones will open it and widen it out. Spend time finding paint that you'll be able to enjoy and make sure you have a space that works for the color you want.
Final thought
After that, pull out rugs, pillows, or other small accents to drop the color around the room. Knick knacks on an entertainment center, decorative baskets, and wall art are all excellent options to throw some color around the room without being overpowering. It's important not to go overboard when you're putting color in your room. The trick to keeping things together is to add color to your liking then take one thing away. This will ensure you didn't overdo it.
The following two tabs change content below.
Sean Bryant
Sean Bryant created OneSmartDollar.com in 2011 to help pass along his knowledge of finance and economics to others. After graduating from the University of Iowa with a degree in economics he worked as a construction superintendent before jumping into the world of finance. Sean has worked on the trade desk for a commodities brokerage firm, he was a project manager for an investment research company and was a CDO analyst at a big bank. That being said he brings a good understanding of the finance field to the One Smart Dollar community. When not working Sean and he wife are avid world travelers. He enjoys spending time with his daughter Colette and dog Charlie.
Latest posts by Sean Bryant (see all)