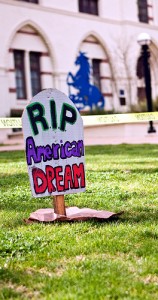 Each and everyday people around the country take a step back and think about their dreams and hopes. Whether it's the dream of becoming a professional athlete or a doctor, everyone has one. We all have a different view on what the true "American Dream" is to us. Most people say it is to have a good job, to own a house and have 2.5 kids. For me, owning a home was indeed part of my big picture dream.
Right after my wife and I were married, 5 years ago, we called a real estate agent and started searching for the first home of our dreams. We found one soon after, but didn't realize that it was going to be one of the biggest mistakes we had made to that point in our lives. About a year after our purchase, the economy began to deteriorate and housing prices started tumbling in one of the biggest declines in decades. Before we knew it, we had lost nearly $25,000 worth of equity in our home and we were wondering what had gone wrong. There were many days that I asked myself why I had found it so important to own a home. Had I not had that dream we wouldn't have been in the situation that we were in.
In the beginning of 2010, both my wife and I decided that we were not completely happy living in Chicago anymore and we decided that we wanted to move to Denver. We listed our home for sale with the hopes of being able to break even. A year went by and we still hadn't sold, so we decided that instead of sitting on our hands for the next couple of years we would move anyways and rent it. Becoming landlords was never part of my dream, but had quickly become a reality.
So here we are today and we are still own our condominium in Chicago, but are also renters in Denver. I can honestly say that just because of the bad luck we were dealt, my idea of being a home owner is still part of my American dream.
A recent study by Integra Realty Resources stated that even today, three out of four people still aspire to own a home (maybe it's because of all the incentives) and consider it a life goal of theirs. No matter what happens to you in life, your dreams are always alive. If you are feeling down and out you just need to find the strength to pick yourself back up and push on.
Do you still considering owning a home part of your American dream?
The following two tabs change content below.
Sean Bryant
Sean Bryant created OneSmartDollar.com in 2011 to help pass along his knowledge of finance and economics to others. After graduating from the University of Iowa with a degree in economics he worked as a construction superintendent before jumping into the world of finance. Sean has worked on the trade desk for a commodities brokerage firm, he was a project manager for an investment research company and was a CDO analyst at a big bank. That being said he brings a good understanding of the finance field to the One Smart Dollar community. When not working Sean and he wife are avid world travelers. He enjoys spending time with his daughter Colette and dog Charlie.
Latest posts by Sean Bryant (see all)