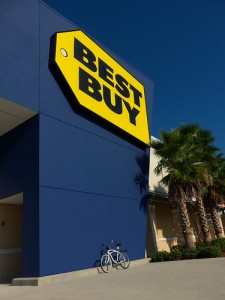 While trying to live a frugal life we often skip some of the luxuries that others splurge on.  Instead of going with a full blown theater room, a smaller cozier setup might be preferred.  But there are times when things wear out, need updated, or you have set aside money for a specific item that you have wanted for quite a while.  In this case there is no reason to pay a price just because it is what is listed.  There are ways to negotiate with the big box stores, but it takes a little more work than just walking in and bargaining a lower price.
Negotiate Using Competitor's Price
Most stores price match with their competitors, sometimes offering the item for 10% less than the competitor is asking.  The item has to be identical, and not a sale price offered by the competitor.
Use a Coupon
What many people do not realize is that in addition to price matching, most of these large stores will accept a competitor's coupon.  This might mean watching the papers and circulars and clipping coupons that could be a potential bonus to your shopping.
Buy a Display Model or Returned Item
The newest and latest models are always changing, when this happens the stores want to get rid of their display models.  They will mark them down in order to get them to move quickly.  The store will usually offer their full warranty on the item, and you can save big by picking one up.  For items that are easily repaired, such as returned building supplies, your negotiation power goes even higher.  You can save a lot on these items.
Stores never want to hang on to inventory longer than necessary.  When items are returned, floor models get out of date, or damaged, they want to get rid of them since they are often harder to sell.  The greater the desire for the store to get rid of an item, the more bargaining power you have.  By doing some research ahead of time, you can negotiate the price down (be kind and ask for 20% off because of damage or returns).  After you have settled on a price (by negotiating due to damage or with a competitor's price) then use your competitor's coupon.  This will get you even bigger savings.  For instance: my laptop recently died and I needed a replacement in order to keep writing.  I shopped around online and settled on a model.  I then went to my local Best Buy, armed with online prices for negotiation.  When I arrived, I found that one of the models I was looking at was being cleared out to make way for Windows 8 computers.  Right away I got about $100 off because it was an "older" model.  I then asked about the display model, since it was being cleared out anyways.  I was able to get another $150 off by taking the display.  The only difference was there were some scuffs on the bottom of the display, and it didn't come with a box.
Negotiating with the big box stores takes a little more work than negotiating with a smaller "mom and pop" store.  But it can be done.  Do your research beforehand, and go in armed with the fact that you can take your business elsewhere.  If you have a smartphone, you can do your comparison shopping right there in the store.  You can use the price from one store, the coupon from another, and shop at the store you want to support.
Have any of your been able to negotiate something with a big box store?
The following two tabs change content below.
Scott Sery
Scott Sery is a native to Billings, Montana. Within an hour in nearly any direction he can be found fishing, hunting, backpacking, caving, and rock or ice climbing. With an extensive knowledge of the finance and insurance world, Scott loves to write personal finance articles. When not talking money, he enjoys passing on his knowledge of the back country, or how to live sustainably. You can learn more about Scott on his website
Sery Content Development
Latest posts by Scott Sery (see all)