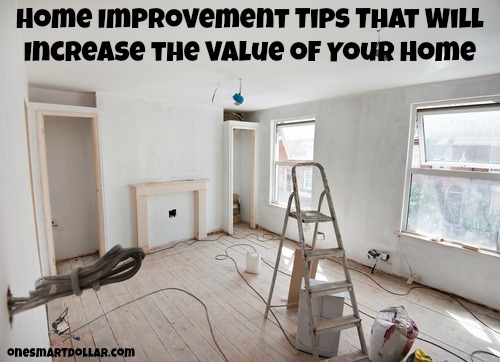 Make sure your home stays updated on design trends, home technology and other luxurious features. These small and large improvements will make your home feel more refined and also increase its appeal for potential buyers. The updates should improve the aesthetics and the functionality of your house, whether it's installation of new fixtures, windows, appliances or an upgrade of materials. Here is a list of home improvement tips that will increase the value of your home:
Kitchen
Your kitchen's appliances, fixtures and decor contribute greatly toward the style and tone of the room. Make sure you stay up-to-date with your kitchen design, so it doesn't look unattractively dated. Update the aesthetics of your kitchen countertops, first. Choose a granite or marble counter top, which will lend the room a classic and timeless look. There are more than 20 shades of granite you can choose from, which makes it easy for you to find a shade that plays well off your other kitchen designs. Granite is a hard substance, which can withstand wear and tear and not pick up any scratches or stains. Granite can also handle hot pans or heated items without any damage. When you install new counter tops, use a professional installer for assurance that it is fitted and sealed correctly.
Bathrooms
Small bathrooms cramp your family's lifestyle and are also a deterrent for home buyers. Reassess how the square footage of your bathroom is being used. If you have a corner tub or drop-in tub with large, squarish proportions, it may take up more space than necessary. Remove the tub from the bathroom and only have a shower, or you can install a smaller freestanding or clawfoot tub that won't take over the room's limited square footage. Also assess the size of the vanity sinks. You may need to minimize the draw space of the vanities with a more shallow console or remove the console all together. You can have two, free-standing sinks with individual mirrors and storage shelves in the middle. This modern look will open up the room and also enhance the overall design of the bathroom.
All Rooms
There are a few updates you can do for the entire home that will increase its sale value. If you have any damaged windows or old windows that aren't conducive for the climate you live in, reinstall the windows throughout your home. Gas fillers in windows — usually of argon or krypton — provide insulation and slow heat transfer. Low-E have low emissivity and reflect rather than absorb heat, due to its coating of a thin, metallic substance. An energy-efficient window upgrade throughout your entire home will add a value of about $12,000 if you decide to sell your house. Get rid of the carpet within your living areas and have luxurious hardwood floors installed. Hardwood has a lot of character and provides a more neutral base for decoration. The new hardwood trend is a herringbone patterned hardwood, which can give the room an ultra modern look.
Backyard
Create a backyard oasis with some simple, yet impactful, updates. Create an entertainment area where you can host barbecues and enjoy the beautiful weather of the summer months. If you live in an area with intense heat, integrate a pergola above the dining area for some extra shade. Have interlocking pavers installed for an enhanced patio look. You can customize your pavers to fit your style, as they can be found in patterns and colors that emulate Mediterranean, Spanish, contemporary or traditional styles. Install a fire pit, which can serve as an entertainment gathering area for the colder months. This outdoor centerpiece is an attractive element for a backyard and will appeal to any potential home buyers.
The following two tabs change content below.
Sean Bryant
Sean Bryant created OneSmartDollar.com in 2011 to help pass along his knowledge of finance and economics to others. After graduating from the University of Iowa with a degree in economics he worked as a construction superintendent before jumping into the world of finance. Sean has worked on the trade desk for a commodities brokerage firm, he was a project manager for an investment research company and was a CDO analyst at a big bank. That being said he brings a good understanding of the finance field to the One Smart Dollar community. When not working Sean and he wife are avid world travelers. He enjoys spending time with his daughter Colette and dog Charlie.
Latest posts by Sean Bryant (see all)