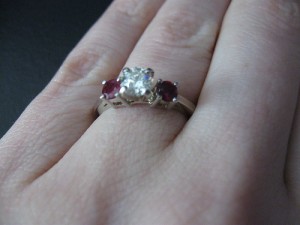 Planning a wedding can easily be one of the most stressful times in a couples life. Sometimes it doesn't even compare to the stress and pressure that a groom to be feels when picking out the engagement ring. Many factors go into the perfect ring. He has to think about what cut of diamond to buy, how big the ring should be, the clarity of the diamond and (oh yeah) there's the whole can he actually afford it dilemma.
How Much Should I Spend on an Engagement Ring?
When I was looking to buy an engagement ring for my wife I had a pretty good idea of the ideal ring. I knew I wanted to get her a princess cut diamond with few imperfections and I wanted it to be around 1 carat in size. I had always heard that you were supposed to spend around two months worth of your salary on the ring. Is this the right amount? I don't think there really is a right or wrong amount that you need to spend on an engagement ring. I think it needs to be something you can afford and still feel financially comfortable.
In a CNN Money article, they stated that the 
average price for an engagement ring was $2,600
. Depending on the quality of the diamond this could equal out to a small or large diamond. There are several varying factors that can effect the price of the ring.
Types of Inclusions – If you buy a ring that is flawless, you are going to be paying a premium for it. When I purchased my wife's engagement ring I bought hers with a few inclusions. These are not visible to the naked eye, however, they can reduce the price considerably.
Size – When you are deciding how big of a ring to purchase always select just below. If you are looking to buy an engagement ring around one carat than look to purchase something something between 0.95 and 0.99. You will end up saving a lot of money compared to purchasing a 1.0 carat ring.
Color – Color is a pretty important factor for a diamond ring. If you buy a diamond that is near colorless than you can help offset any inclusions that it might have. Colorless diamonds sparkle and every woman loves a diamond that sparkles.
At the end of the day, when you are looking to buy an engagement ring you need to buy one that you feel comfortable with financially. No matter what size it is or what color it is, she is going to love it because it comes from you.
If you are curious about other ways to save money on a diamond ring you can read this diamond guide.
How did you measure how much to spend on your wife/fiances engagement ring?  Did you follow the two month salary rule?
The following two tabs change content below.
Sean Bryant
Sean Bryant created OneSmartDollar.com in 2011 to help pass along his knowledge of finance and economics to others. After graduating from the University of Iowa with a degree in economics he worked as a construction superintendent before jumping into the world of finance. Sean has worked on the trade desk for a commodities brokerage firm, he was a project manager for an investment research company and was a CDO analyst at a big bank. That being said he brings a good understanding of the finance field to the One Smart Dollar community. When not working Sean and he wife are avid world travelers. He enjoys spending time with his daughter Colette and dog Charlie.
Latest posts by Sean Bryant (see all)