Women in financial services on Wall Street comprise 54% of the total work force, but make up only 16% of senior executives and
0% of the CEOs
, according to an analysis of the Bureau of Labour Statistics by Catalyst. In large banks and hedge funds on Wall Street, women make up the majority of workers in supporting roles such as human resources, administration, legal, and customer service.
From the early 1970s to the late 1980s, women stock analysts working at brokerage firms on Wall Street went from 1 in 20 to 1 in 5, according to research carried out by Harvard Business School professor Boris Groysberg.
Some of the women who made a considerable impact on Wall Street were:
Muriel Siebert
Muriel Siebert was known as the "First woman of Finance" as she was the first to own a seat on the New York Stock Exchange. She paved a way for women in the financial world and spoke as an advocate for women in business. Ms Siebert served as president of the New York Women's Agenda (NYWA) in 1998. During her term, NYWA developed a program advocating financial literacy for women, which continues to this day. Ms Siebert died in August 2013.
Geraldine Weiss
Geraldine Weiss is one of the most highly respected investors ever. Ms Weiss is the former editor of Investment Quality Trends newsletter. Her initial attempts to break into the investment world were met with secretarial job offers, despite her clear knowledge and understanding of stocks.  Instead she put her knowledge to work as a writer. Under the pseudonym "G. Weiss" she began writing for Investment Quality Trends and it was eleven years before Geraldine was revealed to the world as a female expert. By the time her gender was revealed, she had built up a very well respected reputation and it was no longer important whether she was male or female, so long as she kept passing on her knowledge.
Abbey Joseph Cohen
Abbey Joseph Cohen is an Economist and Financial Analyst on Wall Street. She is a partner and Senior U.S. investment strategist at Goldman Sachs. Ms Cohen is famous for predicting the bull market of the 1990s earlier in the decade, along with many other stock market predictions of recent years. In 2001 she was named one of the 30 most powerful women in America by Ladies Home Journal.
Karen Strauss Cook
Karen Strauss Cook was the first women to work as a trader on Wall Street. In 1975 she caught the attention of a director who was walking through the reception area when she was having a disagreement with the receptionist.  He then interviewed her on the spot and she started work two weeks later. After having her second son, she left her job at Goldman Sachs as she felt she couldn't devout enough attention to her work and her family. Ms Cook founded the company AlternaTrak with a friend who was in a similar position tackling work and family commitments. After a number of years she sold her stake in the business. Ms Cook re-entered the finance world and rose to chief investment officer of Steinhardt Management. In June 2013, 100 Women in Hedge Funds announced that it would honor her with its United States industry leadership award. Ms Cook died in early October 2013.
The Female Investor
We all know that men and women are wired differently, but how does this affect their attitude to investing?
Patient and Nurturing
Females are naturally more nurturing and exhibit considerably more patience than males. In investing, this can result in a longer tolerance and less jumpy approach; they remain loyal to their investments. With this there are some benefits, remaining in the market for a prolonged time allows stocks to dip and regain position and is found to work in the favor of the patient investor, according to research carried out by online investment management service, Nutmeg.
Over the past 10 years the UK stock market returned 9.9% per annum (before fees). If you missed the 10 best days over that period your return would have been just 3.5%.
Extensive Research
Female investors will conduct, on average, more research than male investors. This research into trends, tools and external influences, works in their favor, as they know more details than their male counterparts. Male investors will network more and rely more on chatter and hearsay than females. Females are more likely to conduct their own research around a topic rather than taking someone else's word for it.
Multitasking Skills
It is a world known fact that women are better multitaskers than men and this helps tremendously in the fast passed world of investing. To remain on top of the game, it is vital to be able to react to things as they happen without impacting other activities. A women's ability to multitask means that attention can be divided among a number of tasks at the same time. Being successful in investing is a complex skill and while computers and analytics programs help, the demands of the job still require multitasking skills.
Risk Adverse
Female investors will air on the side of caution. Studies have found that the level of risk that female investors are comfortable with, compared to males, is less. Analysis conducted by Nutmeg Savings and Investments shows that of the people who invest with them, female investors are more comfortable at the lower end of the risk spectrum.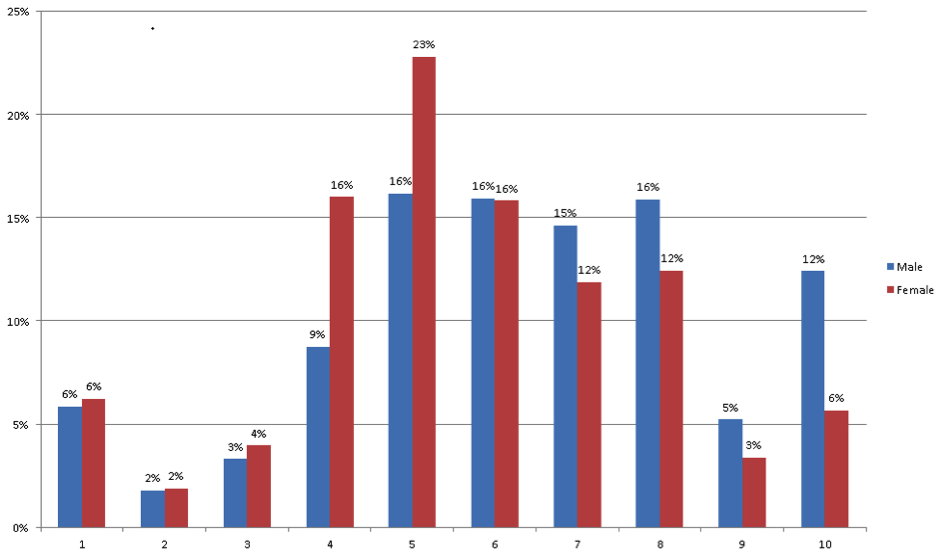 The lower risk level accepted by female investors produces slower returns, but due to the nurturing and patience of female investors, this often works in their favor.
More Emotional
Females are more emotional than men and this can affect their decisions. Investing can be stressful, and with stress comes emotion, females tend to exhibit more emotions then men.
Individual Success
Males and females have clearly defined attributes which impact on the investments they make. Each attribute a person has will impact how they invest, what they are comfortable with and how successful they are. There is no set rule when it comes to investing, there is no attribute that men have that women do not have. It is clear that women can be just as successful at investing as men.
The following two tabs change content below.
Sean Bryant
Sean Bryant created OneSmartDollar.com in 2011 to help pass along his knowledge of finance and economics to others. After graduating from the University of Iowa with a degree in economics he worked as a construction superintendent before jumping into the world of finance. Sean has worked on the trade desk for a commodities brokerage firm, he was a project manager for an investment research company and was a CDO analyst at a big bank. That being said he brings a good understanding of the finance field to the One Smart Dollar community. When not working Sean and he wife are avid world travelers. He enjoys spending time with his daughter Colette and dog Charlie.
Latest posts by Sean Bryant (see all)