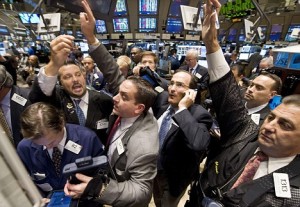 The world of financial trading is one which used to be the realm of only those with huge capital and a background in economics. Now however, it's a method of making money that a lot of individuals are involved in, and what's more is that they are self-taught, and invest only very small amounts of money.
There are countless different things that you can trade, and ways of trading them. In the end however, it's all about buying something that you believe will increase in value, and selling what you believe will decrease. When you're successful, you're left with a profit, depending on how much you've invested, and how correct you've been.
As an example, forex (foreign exchange) trading involves speculating on the value of currencies. If you believe that a currency is going to gain in value against another, then you'd buy a certain amount of it. You'd then have more money when the price increased. Of course, things can move in either direction, and if your prediction was incorrect, you'd lose money.

As for deciding which way a price is going to move, there are many ways of doing this. Some people will choose to interpret economic announcements and news stories, where others might follow patterns on graphs and charts. This all forms part of a trading strategy, which is the way a trader operates.
Getting started is quite a lot easier than you might think. Everything now takes place online, so you don't ever need to leave your desk. You have a platform, which is the application that everything happens through, and then there's a broker, which is the company that actually handles all of the money. Visit
CMC Markets
to find out more about what a broker offers.
Learning is very important when you're trading the financial markets, because you're going to be risking your own money. Before you get involved, it's essential that you've read up on the subject. Fortunately, there's a lot of information out there. One of the best ways of starting is to use a demo account, which means that you'll be able to use the platform and make trades, all without actually using any real money.
To conclude, financial trading is something that's going to become more and more popular as people realised they can get involved. Start learning today, and you could be on your way to being your own boss.
Do you trade financial securities?  
The following two tabs change content below.
Sean Bryant
Sean Bryant created OneSmartDollar.com in 2011 to help pass along his knowledge of finance and economics to others. After graduating from the University of Iowa with a degree in economics he worked as a construction superintendent before jumping into the world of finance. Sean has worked on the trade desk for a commodities brokerage firm, he was a project manager for an investment research company and was a CDO analyst at a big bank. That being said he brings a good understanding of the finance field to the One Smart Dollar community. When not working Sean and he wife are avid world travelers. He enjoys spending time with his daughter Colette and dog Charlie.
Latest posts by Sean Bryant (see all)