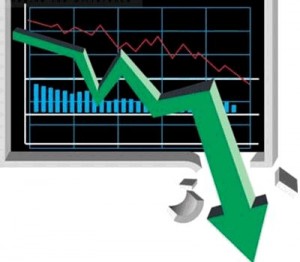 Today marked the end of the third quart and the worst quarter for the US stock market since 2008. Remember 2008? Yeah I know it was one of those years that most of us would like to forget. So this last quart was also one to forget. The S&P 500 last 14.3% and the Dow was down just over 12%.
So let's recap why we saw all the panic in the markets since July. Everything was sailing nicely through July 28 and then the morning of July 29 their was a Q1 GDP revision from 1.9% down to 0.04%. This sent shock waves through the market and sent the S&P 500 down to 1,100 over the next week and a half.
In the beginning of August we had the debt ceiling issue hanging over our heads and politicians who couldn't come to an agreement. Because of that Standard & Poor's downgraded the US debt rating. This led the markets to fall 20% off their 2011 highs set earlier in the summer.
Then let's not forget to trouble in Europe was back and we had to wake up each morning worrying that one of their countries defaulted on their debt. As of today it looks like we might have skated past that issue for a little while longer, but it will definitely be an issue to keep an eye on over the last quarter of 2011 and into 2012.

I was reading the Breakout blog on Yahoo todays and they pinpointed a few key things to keep an eye out for this next quarter because they could move the markets.
October 11 – Alcoa reports their Q3 earnings and this marks the beginning of earning season.
November 2 – The FOMC has their first Q4 meeting and then we will hear from Ben Bernanke.
November 23 – This is the deadline for the Deficit Commission proposals to cut $1.2 Trillion.
December 13 – This is the final FOMC meeting for 2011.
December 23 – This marks the deadline for the Congress to vote on the Deficit Commissions proposals.
I really feel that we are going to see a much better Q4 than Q3.  I think that corporate earning are going to fuel most of the optimism.  Let's keep in mind that October is historically one of the worst months for the market so we might not see the gains until a December Santa Claus rally.
Image Credit
The following two tabs change content below.
Sean Bryant
Sean Bryant created OneSmartDollar.com in 2011 to help pass along his knowledge of finance and economics to others. After graduating from the University of Iowa with a degree in economics he worked as a construction superintendent before jumping into the world of finance. Sean has worked on the trade desk for a commodities brokerage firm, he was a project manager for an investment research company and was a CDO analyst at a big bank. That being said he brings a good understanding of the finance field to the One Smart Dollar community. When not working Sean and he wife are avid world travelers. He enjoys spending time with his daughter Colette and dog Charlie.
Latest posts by Sean Bryant (see all)