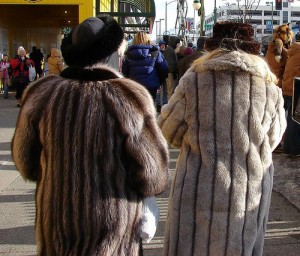 My uncle comes from a family in the garment industry. I remember once going shopping with him at a fairly low-end clothing store. Before he let me buy anything, he carefully inspected the seams and the fabric, making certain that even the very inexpensive items I was picking out had been built to last. He made me put a couple of blouses back, since they would assuredly fall apart within a few wearings.
That was an important lesson to me on how to go about saving money while shopping. It's not enough to find a low-cost alternative—you have to also know that you will get value for your money.
Unfortunately, I don't have the eye for well-made clothing that my uncle does, so unless I'm shopping with him, I tend to buy clothes at stores I know I can trust. Basically, I splurge on good, well-made clothes, because I don't know how to truly save in the budget stores.
Here are some other good rules of thumb that will help you decide whether you should splurge or if you can safely save on your shopping:
Feel good about splurging on "investment" items
Many fashion bloggers will encourage readers to buy top-of-the-line pieces that will stand the test of time: the little black dress, a perfectly-cut suit, a great pair of classic (and comfortable) shoes. Considering the fact that you expect to get a great deal of wear out of these basic pieces, it's worth the money to go for the highest quality you can find.
On the other hand, if you're following a seasonal fad, that's when it makes more sense to save your money. Ponchos, parachute pants, and elephant-ear bell-bottoms will never be a long-term fashion, so go ahead and buy the cheap knockoffs.
Splurge on things that can negatively affect your health and well-being
What to buy with this advice will generally be different for each individual, although there are some universals. Having a good quality mattress, for example, can make a huge difference in every area of your life. Depending on what you do for a living, investing in an ergonomic office chair or well-designed desk can help to keep you focused on work, rather than aches and pains.
Alternatively, anything that you only use occasionally is a good place to look for savings. If you're not using it daily, it's less likely to affect your health.
Splurge when your time is more important
One thing that the extreme couponing and other frugality television shows make clear is just how time consuming it can be to save money.
Whether you are making coupon organization a part-time job, or you are fixing the leak under the sink yourself rather than call a plumber, it's really important to remember that your time is worth something. If you could be spending your time more productively than cutting coupons or trying to figure out which end of a wrench is up, then it's worth the extra money.
This can be a tough rule of thumb to keep if you have made a habit out of frugal thinking.
The Bottom Line
Knowing what to splurge on and when to save your money can be a very tough call. If you know enough about your purchase to allow you to find those diamonds in the rough and you are willing to invest in good pieces, you'll be in a good position to spend your money as wisely as possible. Remember, just because you can do something yourself doesn't mean it's the best use of your time.
The following two tabs change content below.
Emily Guy Birken
Emily Guy Birken is a freelance writer and stay-at-home mom who is passionate about personal finance. She lives in Lafayette, Indiana with her mechanical engineer husband and her toddler son. She blogs about parenting at
The SAHMnambulist
and about the funny side of money at
Live Like a Mensch
.
Latest posts by Emily Guy Birken (see all)