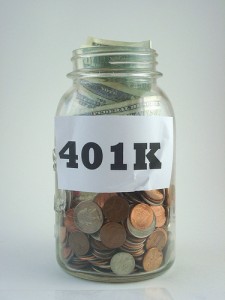 For anyone who has a strong 401k and has perhaps found themselves in a position where they could use a financial boost, it can be incredibly tempting to dip in. After all, having a resource such as this at one's disposal is often considered to be somewhat of a security blanket, as it can truly come in handy in certain times of life. The problem, though, is that many people decide to withdraw from their 401k simply because they wish to purchase things for the home, or perhaps a new car. There's no getting around the fact that this is never a good idea, and could even prove to be detrimental for some people.
Here are just 4 reasons why you should avoid dipping into your 401k.
Your 401k Will Increase Over Time

If you've worked towards amassing a nice sized 401k, you know that it takes time to build; this is not something that happens overnight. Keep it up, and you can expect your 401k to increase smoothly over time. If you decide to withdraw from your 401k, however, you'll be neglecting this benefit and will not get the most out the scenario. It might seem like a good idea at face value, but it almost never is.
You Might Want to Start a Business
Starting a business can be difficult, and almost always means shelling out a fair amount of money in order to get things rolling. If you don't have a savings behind you, however, you might be held back dramatically. A 401k can be an excellent resource for start-up funds, so long as you work with a professional to determine exactly how to go about the process so that you don't end up losing your money.
You May Someday Face a Legal Battle
You never know when you might someday have to face a legal battle. This is especially true for business owners, as it's possible to get sued for a wide variety of reasons. If this occurs, you've got to have the right funds behind you to back you up. Many people find that their 401k can be a veritable godsend in such a scenario, which is just one more reason why you should avoid dipping into it prior. If you do find yourself facing a legal battle currently, LawyerLocator.com legal resources can be very helpful.
You Could Run Into Health Problems
No one ever expects to get sick, but it's important to plan for it. Healthcare costs can be overwhelming, and unless you have a bit of money behind you, it could land you in a rough financial position. A 401k can be the best thing in the world if you find yourself in need of emergency healthcare, and if you dip into it prior, you could end up in rough shape.
A strong 401k will always come in handy. Avoid dipping into yours unless it's absolutely necessary.
The following two tabs change content below.
Sean Bryant
Sean Bryant created OneSmartDollar.com in 2011 to help pass along his knowledge of finance and economics to others. After graduating from the University of Iowa with a degree in economics he worked as a construction superintendent before jumping into the world of finance. Sean has worked on the trade desk for a commodities brokerage firm, he was a project manager for an investment research company and was a CDO analyst at a big bank. That being said he brings a good understanding of the finance field to the One Smart Dollar community. When not working Sean and he wife are avid world travelers. He enjoys spending time with his daughter Colette and dog Charlie.
Latest posts by Sean Bryant (see all)