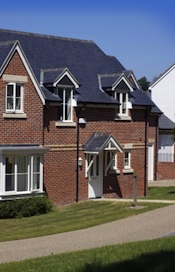 When it comes to shopping for a house, there are a lot of things to watch out for.  While many people are focused on making sure to get the best deal on their mortgage, or making sure there are no major problems with the house they are purchasing, they often overlook some of the finer details of shopping in general.  Being a smart shopper is not just getting the best deal, it is also making sure you get what you want.
Consider Schools
One thing that is most often overlooked when shopping for a house is taking into account the schools nearby.  People pay particular attention to the location of the house, but they often do not check which school zone they are in.  Even if you do not have kids, and if you do not plan to have any, buying in an area where children attend highly rated schools will help the house sell quicker when it comes time.
Want vs. Need
It would be great to have a large house with a spectacular view of the mountains and a large pool for parties.  Unfortunately, wants are often much greater than needs.  Before you begin to shop, sit down and make a list of what you need. If you are married and have a child, you really only need 2 bedrooms (you do not need 4 bedrooms unless you are planning to have more children).  Making a list will help you design your minimum requirements.
Trust Your Own Research
Your realtor should be on your side.  But they are still in business to make the sale.  The realtor you hire should be looking out for your best interest and not in the interest of making a few bucks.  However, they still may embellish the truth a little to make you move quicker.  If something sounds too good to be true, do a little research before making your decision.
Disregard Furniture and Artwork
If you are looking to build, or buy a "cookie cutter" house you will probably tour a display home.  These homes are often decked out with the nicest tile, top of the line fixtures, premium carpet, and high-end furniture.  The sellers want you to choose their home, and they will make sure that you fall in love with the display home.  Try to envision any home with your furnishings and your decorative style.  There is a chance you might not like the way your artwork would look in the living room.
View All in One Day
You can look up the homes on your own, or have your realtor send you some links.  Make a list of all the houses you want to look at, and then schedule a half to a full day with your realtor to look at all your prospects in one day.  Doing so will help you compare one style to another while they are all still fresh in your mind.  You may even want to take pictures as you tour the homes so you can refer back to compare certain aspects of each.
The Bottom Line
Buying a home is a big step.  With so many things to look at, and so many details to pay attention to, we often become stupid shoppers.  We forget the basics of comparing products, and the basics of smart shopping.  Before you begin, make a list of all the things you need to pay attention to, and those you need in a home.  Don't deviate from your list or let high pressure sales people force you into a decision before you are ready.  When the time comes, this will make sure you have the perfect house.
What tips did you follow when you bought your home?
The following two tabs change content below.
Scott Sery
Scott Sery is a native to Billings, Montana. Within an hour in nearly any direction he can be found fishing, hunting, backpacking, caving, and rock or ice climbing. With an extensive knowledge of the finance and insurance world, Scott loves to write personal finance articles. When not talking money, he enjoys passing on his knowledge of the back country, or how to live sustainably. You can learn more about Scott on his website
Sery Content Development
Latest posts by Scott Sery (see all)