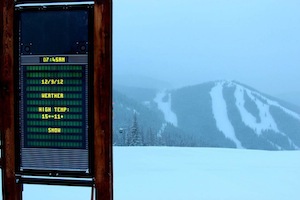 In my round-up last week I mentioned that I was finally going to make it up and go snowboarding.  Well there was still a lack of snow so I decided to wait.  The resorts in Summit County got up to 11 inches of snow in the last 24 hours so I am definitely heading up either tomorrow or Tuesday.  Last year I had 25 days on the mountain so I have a little bit of catching up to do if I want to reach that number again this year.
As for the baby, Colette is doing awesome.  At only 5 weeks we can tell that she is going to be quite the dancer.  When the music is on, her legs really start moving.  We got her social security card yesterday so now all we need to do is get her passport before it's time to start planning her first vacation.
Now on to some of my favorite personal finance articles of the week.
A Review of My Experience With Car2go San Diego: A Car Sharing Service – Your PF Pro
Do Your Purchases Reflect Your Values? – Eye on the Dollar
Saving Money on Grocery Shopping + Giveaway – The Family Finances
Compare the Best Credit Card Offers – Modest Money
Secured and Bad Credit Credit Cards – Work Save Live
Save on Groceries and $100 Giveaway – My Alternate Life
Bank Sale in Canada Not the Same as Bank Foreclosures in the USA – Canadian Budget Binder
How to Negotiate Your Bills and Your Debt – Reach Financial Independence
How much Money is Enough? – Club Thrifty
Engagement Gift Ideas – Part V – Unique Gifters
Two Year Blogging Anniversary + Giveaway – Finance Fox
Battle of the Bulge – Losing Weight With the Help of a Scale – Mo Money Mo Houses
Why Rebalancing Your Portfolio is Like Buying a Carton of Eggs – Frugal Rules
Finding a Loan – Not Quite as Simple as You'd Think – Money Smart Guide
How to Save Money: Using Cash Envelopes – I Heart Budgets
Students: How to Finish College With No Debt – Debt Round Up
Keep Your Passwords Safe – Outlier Model
The Vagaries of Life – Broke-Ass Mommy
What to Include in your Net Worth – Planting Our Pennies
Is Parking The Car Worth It? – Add Vodka
I finally remembered to submit to carnivals this week so here are a couple I have been included in.
The following two tabs change content below.
Sean Bryant
Sean Bryant created OneSmartDollar.com in 2011 to help pass along his knowledge of finance and economics to others. After graduating from the University of Iowa with a degree in economics he worked as a construction superintendent before jumping into the world of finance. Sean has worked on the trade desk for a commodities brokerage firm, he was a project manager for an investment research company and was a CDO analyst at a big bank. That being said he brings a good understanding of the finance field to the One Smart Dollar community. When not working Sean and his wife are avid world travelers. He enjoys spending time with his two kids and dog Charlie.
Latest posts by Sean Bryant (see all)