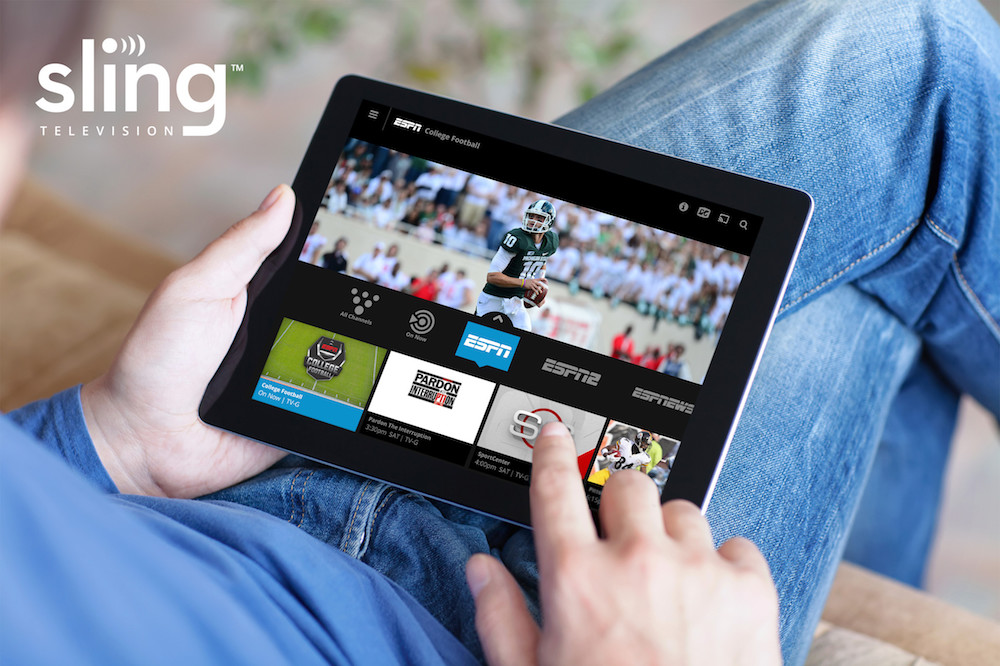 After taking a look at my budget last year, I knew I had to make some cuts. After looking at different options, one of the decisions I made was to give up cable. When I called the cable company to cancel my contract, I admit I was a bit nervous. But that nervous feeling was quickly replaced by the feeling of freedom and joy when I signed up for SlingTV instead. So for your reading pleasure, here's my honest SlingTV review, plus a little background for those of you curious about replacing cable and freeing up more dollars each month!
What is SlingTV?
SlingTV is like cable for the 21st century, but with more flexibility and customization. There are two main packages of channels to choose from, Sling Orange and Sling Blue, with a ton of extra add on packages. Sling Orange is $20 per month, and Sling Blue is $25 per month. The extra add-on packages range from $5-$15 per month, making it super affordable to customize your entertainment experience.
How do I get SlingTV?
SlingTV is a streaming app that works similar to other streaming services, like Netflix or Amazon. On a mobile device, you download the SlingTV app and login. The SlingTV app is built into common streaming devices like Roku, Xbox, Apple TV, Amazon Fire, and lots of others. When I switched to SlingTV, I just signed in on my streaming device and it was ready to go! Fast, easy, and seamless, especially compared to installing cable.
Does SlingTV have the channels I want?
Unlike cable, SlingTV gives you a ton of control over which channels you want and which ones you don't, so you save a ton of money by eliminating the channels you never watched anyway. The Sling Orange channel list (my package!) includes favorites like ESPN/ESPN2/ESPN3, TNT, AMC, CNN, HTGV, Disney Channel, Cartoon Network, Comedy Central, A&E, TBS, Food Network, BBC America, Lifetime, History Channel, and Travel Channel. There are a few more channels in there, but you get the picture.
Sling Blue has a lot of overlap with Sling Orange, but they're not exactly the same. The Sling Blue channel list features NFL Network, AMC, FX, CNN, HGTV, Comedy Central, USA, Cartoon Network, History Channel, TNT, Bravo, Food Network, Fox Sports 1 and 2, TBS, SYFY, BBC America, A&E, Lifetime, BET, National Geographic, Univision, TruTV, and Travel Channel. You can see how Blue and Orange differ slightly, but both offer a great variety of channels.
The Real Value of SlingTV
The best part about having two main packages to choose from is that it makes it super easy to customize your SlingTV package to your unique situation. When I first signed up, Sling Orange met literally all my entertainment needs. I was saving over $30 compared to cable, yet I didn't feel like I was missing out at all.
But life is unpredictable, and a few months later, my boyfriend moved in and decided we needed more sports. That's where the extra add-on packages came in to save the day! We bought the Sports Extra package for only $5/month and now he gets more access to sports than his friends with cable. Which is fine except that our house is now the game day house. I guess you can't have everything.
I can't say enough about how excited I am that SlingTV maximizes our entertainment budget now with the flexibility to change in the future. I'm sure there will come a time when the Kids Extra package will be the best $5 I spend each month. Or perhaps I'll want to follow the next election closely and having the News Extra for only $5/month will give me all the access I could ever want.
And no, I'm not done yet. SlingTV has extras on extras – like the 4 extras deal for only $10 per month that includes the Kids Extra and News Extra along with the Comedy Extra and the Lifestyle Extra. So much flexibility, and such a great deal! This is why I encourage all my friends to ditch their cable. SlingTV's packages actually enhance your entertainment experience while making TV cheaper than ever before.
TLDR: SlingTV Rocks
Switching from cable to SlingTV saved me hundreds of dollars last year without changing how I watch TV at all. It works seamlessly with the streaming device I already had, and has given me more freedom to individualize my entertainment experience than any other service out there. You can try it for seven days for free, but I guarantee you'll only need the first day to see for yourself the awesome value of Sling.
The following two tabs change content below.
Lucy Oake
Lucy Oake is a business analyst by day and a blogger by night. In her free time, she can be found sipping a drink at a local brewery, hiking the beautiful trails of Northern Minnesota, or competing in a karaoke contest. Her dream is to open and run her own brewery-bakery.
Latest posts by Lucy Oake (see all)