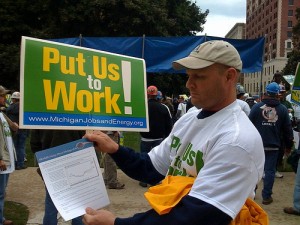 The issue of employment is one of the hottest topics in the US. With millions of individuals struggling to find work and the economy recently posting negative growth, any pieces of good news are immediately greeted with joy by the economic powers that be.  Last week we found out that the number of people employed in non-agricultural jobs grew in January.
One of the key indicators of economic performance in the US, non-farm payroll figures for January saw an additional 157,000 jobs created in the past month according to the Labor Department. As a footnote, revised figures for November and December revealed that 127,000 more jobs than first anticipated were created, providing even more good news for the US economy.
Mixed messages
"Today's NFP release was expected by many to be the economic highlight of the week.  The NFP number came out very close to expectations and its impact was seen by some as quite muted", said a spokesperson from FX Solutions.
They added: "An interesting aspect was the unemployment number increasing. The reason behind this is actually strangely non-intuitive, but makes sense. As the economy in the US recovers and consumer confidence rises, some believe discouraged job-seekers who stopped looking for work last year will be returning to the jobs market raising the "participation rate."
"Thus even as the headline NFP number is rising, these greater numbers of job-seekers may be keeping the unemployment rate elevated."
Job frustration for many
Despite the growth in the number of jobs created last month, many people in the US, distressed by what they see as a lack of opportunities for employment. This may see unemployment levels remain high in the short to medium term, although with more people sensing that they have no choice but to keep looking, there may be light at the end of the tunnel.
Editors Note: From watching the news we are seeing a lot of jobs being created here in Denver.  How are things looking in your part of the country?
The following two tabs change content below.
Sean Bryant
Sean Bryant created OneSmartDollar.com in 2011 to help pass along his knowledge of finance and economics to others. After graduating from the University of Iowa with a degree in economics he worked as a construction superintendent before jumping into the world of finance. Sean has worked on the trade desk for a commodities brokerage firm, he was a project manager for an investment research company and was a CDO analyst at a big bank. That being said he brings a good understanding of the finance field to the One Smart Dollar community. When not working Sean and he wife are avid world travelers. He enjoys spending time with his daughter Colette and dog Charlie.
Latest posts by Sean Bryant (see all)