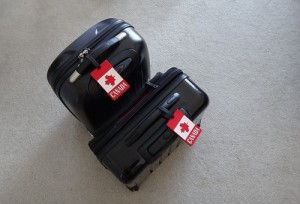 Is it just me or are airlines stricter than ever before? Nowadays it seems like you can't even buy a drink and a magazine before boarding without the plastic bag being counted towards your carry-on allowance! With this and the tight restrictions on the weight of your actual suitcase, packing for a vacation can turn into an impossible task.
The solution? Well, short of disregarding a selection of carefully planned outfits, a fantastic way of reducing your baggage weight and the fee that comes along with it is to think about the actual bag itself. Luckily, manufacturers are no longer making solid, heavy and chunky suitcases and are concentrating on designing stylish, slick and fantastically lightweight luggage instead. So by substituting a heavy case for a lighter one, not only will you be able to be less restricted on packing, but if you're considering backpacking or travelling around whilst abroad, you won't have to worry about lugging around the extra weight either.
Due to the demand for light luggage, the market has naturally been flooded with choice, meaning – from high-end leather to cheap imitation – it can be tricky to know which kind to pick. But depending on your budget (and the size of your wardrobe), here's a quick selection of the best of the bunch.

2-Wheel Suitcase, Black Medium – £15 at Tesco.com
Black Lightweight Trolley – £85 at HushHush.com
Members Leggero 77cm Super Lightweight Suitcase – £59.95 at Karabars.co.uk
G. Pacific 20-inch Durable Molded-EVA Carry-on – £74.36 at overstock.com
Osprey Ozone 36L Wheeled Luggage wiggle.co.uk – £90 at wiggle.co.uk
Z-Frame 1680 18″ Super Lightweight 4 Wheel 2.3kg Luggage Black £28.99 at ebuyer.com
Feeling indecisive? If you've got the funds to spare and are keen to invest in a long-lasting bit of luggage, we think it would be worthwhile going for more of an expensive version. On the other hand, if you're simply looking for a quick way of ensuring you'll swerve the extra charges on your flight this summer, there are many low-price and happily affordable suitcases to choose from too. Whatever your budget, at least it'll be a little easier to lose a few pounds in time for your holiday!
The following two tabs change content below.
Sean Bryant
Sean Bryant created OneSmartDollar.com in 2011 to help pass along his knowledge of finance and economics to others. After graduating from the University of Iowa with a degree in economics he worked as a construction superintendent before jumping into the world of finance. Sean has worked on the trade desk for a commodities brokerage firm, he was a project manager for an investment research company and was a CDO analyst at a big bank. That being said he brings a good understanding of the finance field to the One Smart Dollar community. When not working Sean and he wife are avid world travelers. He enjoys spending time with his daughter Colette and dog Charlie.
Latest posts by Sean Bryant (see all)